14 Jan 2020
We all know about resolutions. We know resolutions are firm decisions about something often made at the start of a new year. But we also know they're often abandoned after a few days into the new year because they're too broad or unrealistic. Goals, on the other hand, are a person's aim or desired result. Goals can be broken down, categorized, and reached by achieving one step at a time.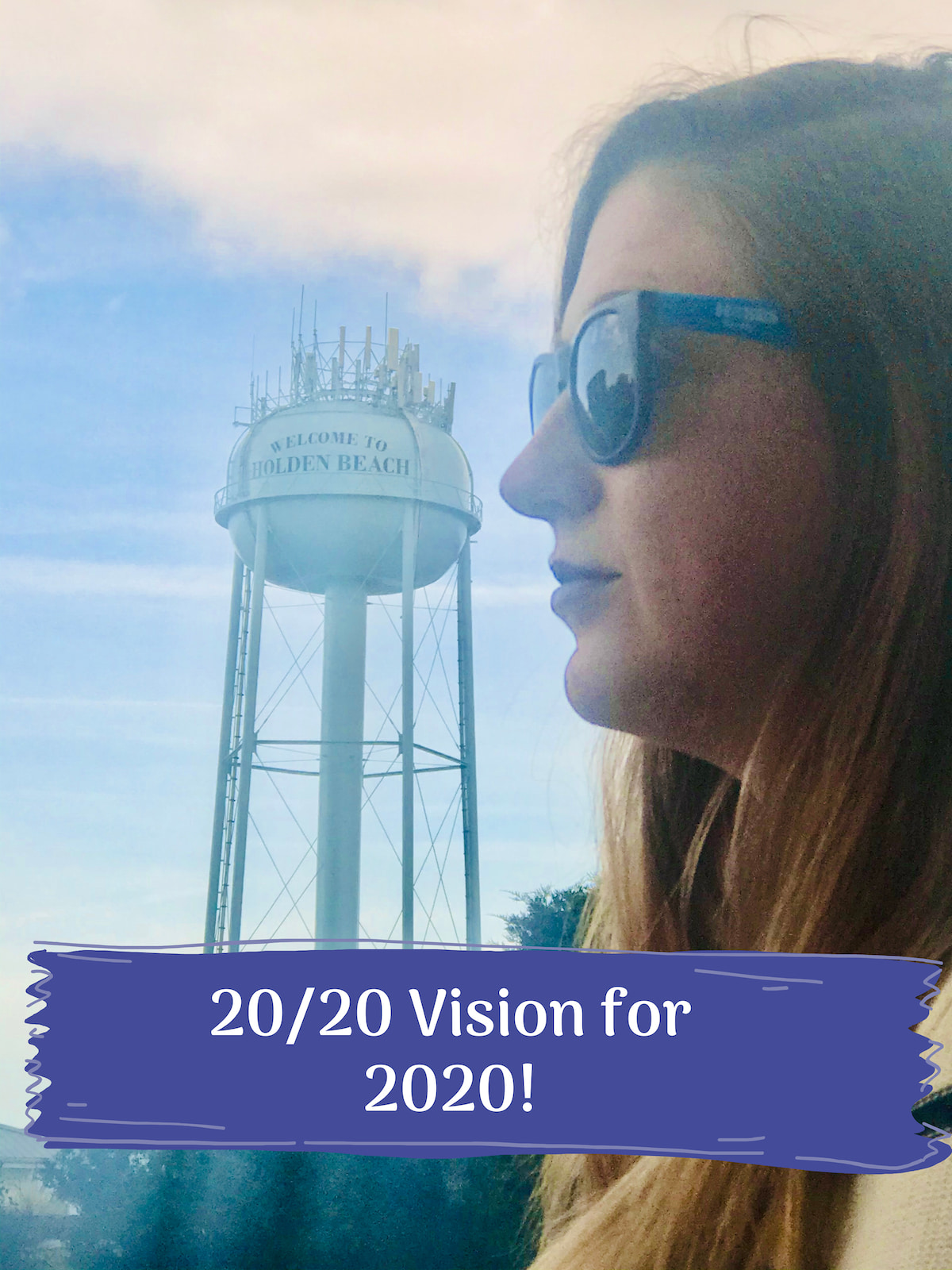 As you envision your 2020, we hope this Hobbs Top 20 list helps you make your goals a reality!
Hobbs Realty's Top 20 Goals for 2020
1. Eat healthier. One meal at a time….one day at a time. Start simple and eventually you'll build great new habits. And when you're visiting in our neighborhood, you can still continue eating well by enjoying local produce, fresh seafood, or healthy menu items in area restaurants.
2. Find time for fitness. They say we make time for what's important to us and taking a vacation doesn't have to get us off track. Whether it's renting a bike to ride around the island; using the work-out stations along Ocean Boulevard during your walk or run; a swim in the ICW, ocean, pool, or at the Brunswick Community College fitness and aquatics center; or working out at Dosher Fitness Center, many fun fitness options await!
3. Get enough sleep and relax more. Prioritizing a regular sleep schedule can promote a rested mind and body and calmness. There's no better lullaby than the sound of waves lapping to shore. And as far as relaxing — an oceanfront deck of a Hobbs Realty vacation rental... a leisurely stroll along the shore at daybreak... a later afternoon kayak session on a calm day. Need we say more? The choices are endless at Holden Beach. Commit to this goal by booking your vacation directly with Hobbs Realty today.
4. Read more. We may have to read for work or school, but nothing beats choosing a couple of books from your wanna'-read list to pack for your next vacay. Then find your perfect perch — on the deck, in the hammock, or with your toes in the sand — to escape the chaos of real life.
5. Continue your education. In every season of life we often seek new ways to learn. Interesting learning opportunities abound on Holden Beach, whether at the seasonal, weekly Turtle Talks; learning how to surf with local experts; at the local library; or with a local seafood guru in discovering how to cook a new seafood dish.
6. Me time. In this era of technology, we hear more and more from health experts about the importance of setting aside time for yourself – time that is quiet or filled with your favorite music, screen-free, and stress-free. Think Holden Beach strolls, checking out the local bookstore, a local paint and wine session, time at a local spa, or a soak in the hot tub at your Hobbs Realty beach rental.
7. Manage stress better. It's been said that stress is manifested in our bodies as a symptom of the stressor of our circumstances not being processed well in our lives. Walking has been touted as being a great stress reliever, along with music and exercise. Eight miles of beach — whether sand or sidewalk — await. How about putting your boat in at the Holden Beach Marina for a leisurely cruise along the ICW. And refer back to #2 for enjoyable exercise options.
8. Spend time with friends and family. One of the greatest ways to build healthy relationships is to spend time together doing valuable things together. Maintaining healthy family relationships can be a huge stress reliever and nothing beats planning a vacation together to provide a relaxed atmosphere for leisurely meals, organic conversations, less screen time, and more time to enjoy the blessings! Whether oceanfront, on the ICW or canal, or ocean-view, a Hobbs Realty rental home is designed to help you enjoy the view, along with great meals, family time, and wonderul memory making.
9. Experience new foods. Food is known as the universal language of love and way to the heart. If done properly, the process of selecting, preparing, and enjoying meals together is a beautiful fellowship opportunity. When we gather as larger extended families and groups of friends at our beach vacation homes, it's likely new foods will be thrown into the mix. Go for it! Experience an oyster roast for the first time. Learn how to find, cook, and open a clam, then whip up the local version of clam chowder. Order the unfamiliar off the menu, like the Redneck Eggroll at Dock House Seafood or The Seafood Barn. Have fun!
10. Listen to more music. When planning your beach vacation with Hobbs Realty, check out the shows at Odell Williamson Auditorium or the summer concert series under the Holden Beach Bridge for cool music options. 
11. Dance more. Specifically, under the Holden Beach bridge to your favorite beach music. In the sand. On the deck. In the pool. Enjoy life at Holden Beach!
12. Try something new! What better time to explore something new than when on vacation at the beach? Explore a new hobby (i.e., golf, shelling, or fishing). Build a new habit (i.e., wake up earlier to catch a sunrise, enjoy a devotion, exercise, or write a letter). Walk to the end of the Holden Beach Pier. Book a family photo session. Jet ski! Dock your boat on the ICW and enjoy a wonderful view and meal.
13. Try a new flavor of ice cream or Italian Ice. Who can imagine 2020 without ice cream — or other yummy refreshments to cool off on a hot summer day? The choices are endless around here – especially at The Saltwater Shanty and Sunset Slush.
14. Find a favorite coffee shop. Coffee is more than grinding coffee beans. It's often fellowship…an adventure finding just the right balance of strength and flavor ….. and perhaps a calming ritual at your favorite hang-out. So grab a bagel and a coffee at a favorite HB spot, and savor the moment. 
15. Journal more. Journaling has been long touted as a healthy habit. It can serve as a spiritual discipline of logging prayers and gratitude, as a way to document fun travels, a log of seashell varieties found, an expression of art through words, or even a therapeutic way to process thoughts. Purchase or make a journaling book, find your favorite Holden Beach spot and time of day to quietly reflect, and then jot those thoughts down. And don't forget to check out the Kindred Spirit mailbox on the East End of the island and add your mark on those journal pages as well.
16. Chase a sunset. Need we say more? Surrounding yourself with nature and spending time outside is a natural stress reliever, boosting mood and self-esteem. The brilliance of HB sunsets is breathtakingly and uniquely beautiful in each season of the year. Make it a must-see goal for this year to witness seven in a row during your memory-making Hobbs Realty vacation.
17. Improve finances. Financial experts suggest forecasting your future needs and dreams, considering investment opportunities, and saving towards a goal. Perhaps a smart move this year for you is to schedule a meeting with a Hobbs Realty sales agent to research the possibility of a forever beach home — one that will provide a return on investment now through Hobbs Realty's property management until you're ready to make Holden Beach home year round.
18. Find a place to worship. Regardless of your religious affiliation, research shows that having a spiritual connection can lead to improved health, longevity, and happiness. There are many worship opportunities in the Holden Beach area on and off the island. 
19. Book a vacation. It's been said we should travel not to escape life but so that life doesn't escape us. It's important to find the balance between work and play. Hobbspitality is Hobbs Realty's specialty, with experts available to help you find the best vacation home for your needs.
20. Be grateful. Make it a priority each day to find something to be grateful for…a reason to pause and give thanks. You'll shift into gratitude mode very quickly when you crest our Holden Beach bridge as take in that one-of-a-kind view of the sun glistening on the Atlantic and the vast view of shoreline sprawled out in front of you. Open your windows, draw in a deep breath of that salt air, savor the moment, and be grateful.

So, happy 2020! 
Whether you're discovering Holden Beach, NC for the first time, or HB is your longstanding family vacation tradition, we look forward to journeying with you every step of the way in reserving and preparing for your time here….the best decision you'll make all year!
Looking back... 
Here's a snapshot of Hobbs Realty's Top 20 Blogs in 2019: