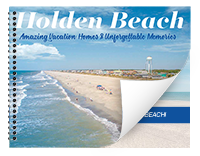 You've made the great decision to purchase property on Holden Beach, one of America's Top 10 Family Beaches! Imagine all of the wonderful memories you will make for generations to come. But what about those times when you are on the mainland and not enjoying your island home? To make the most of your investment, put Hobbs Realty's 40+ years of vacation rental management experience to work for you. You can relax…and we'll take care of everything!
Why Choose Hobbs Realty?
It's a beautiful thing when you can find the perfect balance of legacy and vision. At Hobbs Realty, we're proud to strike that balance! Whether you're an owner or a guest, our goal is the same — to make your Holden Beach experience as relaxing and enjoyable as possible.

From quality housekeeping to outstanding guest services to preventative maintenance, we are the trusted choice for your full-service property management company. Learn more about our services below, or contact us to start maximizing your rental income today.
Integrated, Proactive Marketing Strategies
Our marketing strategies will put your home in front of the right audiences at the right time. Our integrated plan includes:
Search Engine Optimization (SEO)
Content Creation
Paid Advertising
Email Marketing
Social Media
Online Travel Agency (OTA) Listings
Learn the details of each component in our Digital Marketing Strategy overview.
Learn More About Our Marketing Strategy
360° Photo Tours & Interactive Floor Plans
With our 360° Photo Tours & Interactive Floor Plans, guests have access to the most current, detailed information about your home and all it offers, making the guest selection process a pleasure. This complete picture of the property, including all the amazing views, heightens guest satisfaction and helps create loyal returning vacationers.
Easy Check-in & Access with Hobbs Smart Homes
Hobbs is the smart choice! Our innovative Hobbs Smart Homes provide the convenience of keyless entry locks and the security of a digital footprint showing all entries into your home. Our guests love bypassing check-in queues and stalled traffic lines by receiving a "Welcome to Our Neighborhood" entry notification as soon as their vacation home is ready.
Notifications & Connectivity with our Mobile App
Guests can stay connected with our mobile app, Hospitality by Glad to Have You. This free smart phone app allows our guests to manage their reservations online, make payments, and find local fun events, and provides smooth check-in and check-out procedures. It will even remind them to roll out the trash the night before scheduled pick-up and when to head to the local summer concert series for some serious fun!
Monitor Your Performance Online
Our online OwnerWeb™ access helps you monitor the performance of your vacation rental property remotely from wherever you are! View your rental calendar and bookings, see completed work orders, print a monthly statement, make account payments, reserve your home for friends or family use, and more!
Much like OwnerWeb™, we offer your guests GuestWeb™ access so that they can also enjoy the ease of our innovative systems when booking a home with Hobbs Realty. Guests can manage the entire reservation process from the privacy of their computers or on the go with our mobile-friendly website or GoGuest app.
Backed by Three Generations of Holden Beach Locals
In 1977, Hobbs began building – and selling – homes one at a time on Holden Beach. Two years later, we officially founded Hobbs Realty. It only made sense to use our extensive local knowledge and passion for Holden Beach living to expand the business into property asset management.
As a result of our policy to always go the extra smile, Hobbs Realty has grown steadily over the years, building a company that now spans three generations. Our business is deeply rooted in the Holden Beach community, blending our firm commitment to time-honored family traditions alongside progressive ideas and innovative systems that distinguish us as industry leaders. Our passionately professional team members, who live, work, and play here, are proud to have helped generations of families become happy homeowners and satisfied vacationers, and we look forward to doing the same for you! We love what we do – and we're good at it!
Ready to Boost Your Rental Income?
At Hobbs Realty, we always go the extra smile! We're equipped to respond to after-hours issues in a timely fashion, ensuring a positive experience for all of our guests. Choosing Holden Beach and Hobbs Realty are important steps toward a smart partnership and lifetime memories. Speak with one of our licensed brokers when you contact us by phone or when using the form below.