3 Jun 2019
Concerts are cranking up… the fishing lines are in… boats are cruising up the waterway… the sun is shining… local eateries are reeling in the catches of the day… and the summer season is officially OPEN at Holden Beach! Are you ready?!
One of the island's favorite summer traditions — the free concert series under the Holden Beach bridge — kicked off over Memorial Day Weekend, with the strains of beach music harkening locals and visitors alike from all over! Folks from all ages gather each week at 6:30 PM at the pavilion with lawn chairs, coolers, and comfortable shoes for boogying.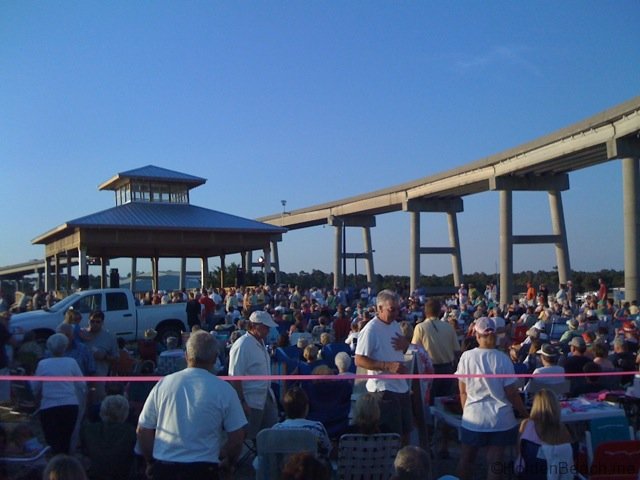 Surf's up and guests and locals are busy learning not only how to surf, but to love surfing! Spots are booking up for the summer sessions with Southern Surf Academy, so make your group or individual reservation today!
Sign up kids (ages 6-12) for the Summer Day Camps sponsored by the Town of Holden Beach. Check out the entertaining schedule includes cooking, art, mini golf, and more!
Kids of ALL ages love Tide Dye Tuesdays! Get your groovy family fun scheduled on Tuesdays between June 11 and August 13. 
And everyone knows we can't think of HB without thinking about the turtles! For adults and children alike, the summer is filled with Turtle Talks and Turtle Patrol. The town's Parks and Rec department can help you find turtle-related programs, as well as other weekly activities such as bocce ball, Tai Chi, pickleball, Rummikub, and Duplicate Bridge.
Squeals of laughter can always be heard from the children's water park behind the tennis courts. And don't forget you can reserve the dock through Town Hall for your boat if you need a spot to come ashore during your ICW adventures.
Not many families visit Holden Beach without two special stops on the Causeway — Magic Mountain Waterslide and Treasure Island Miniature Golf! And you HAVE to indulge in an ice cream cone while there! 
And don't forget to check out some favorite reads at the Town Hall library for your relaxing day on the deck or in the sand. What's a summer vacation without diving into a good book?
The list is endless, but you get the idea. See ya' soon... Gotta' go rent some

jet skis

for some more hot fun in the summertime cruisin' in the Lockwood Folly River!