20 May 2019
History of NASCAR and Holden Beach
If you know anything about stock car racing then you know NASCAR roots run deep in North Carolina. But what you may not realize is Holden Beach has some pretty cool connections to the world of racing, too.
You see, Richard Petty, The King of NASCAR, and his wife, Lynda, bought an oceanfront house on the island's East End in the mid-1960s with another couple. Richard and his family usually headed down to the beach after the Darlington race for some much-needed R&R. Lynda and the children enjoyed many days at Holden Beach during the summers, usually a week or two at a time, and often the entire summer. The Petty kids recall returning home to Level Cross, NC, near Randleman, for the days Richard was home from the racetrack circuit. And when Richard left to gear up for another race, the rest of the family hauled back to the beach! Years later, the Pettys sold their half to their friends, but cherish the great memories our island holds in their hearts.
But a Little Background First... 
Richard married Lynda Owens, the love of his life, in 1958. They were married until her death in 2014 at their home in Level Cross at the age of 72 after her courageous battle with cancer. Their four children have been involved in their dad's racing world from the get-go — in their travels to races, according to long-time family friend, Martha Jane Bonkemeyer; in operating Richard Petty Motorsports; and with the Richard Petty Museum and (a fascinating journey through the years if you ever get an opportunity to stop in).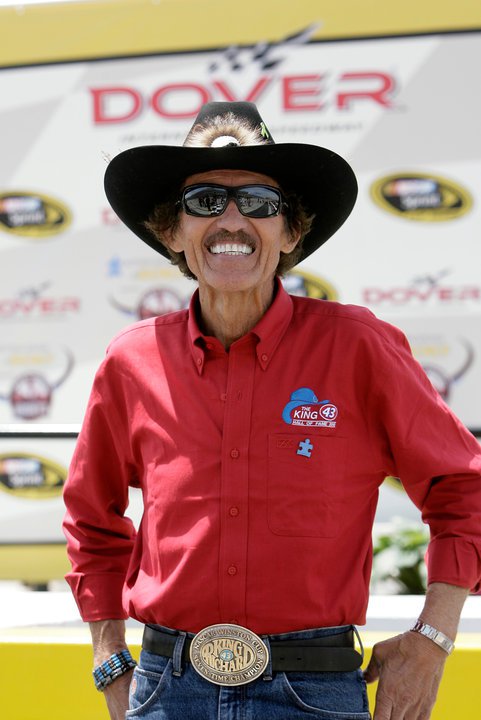 Professional racing has been a family affair for over 70 years. Richard's father, Lee Petty, won the first Daytona 500 in 1959, and was a three-time NASCAR champion. Richard followed suit, beginning his pro career in 1958 and winning his first race the next year in at Columbia, as well as Grand National Rookie of the year....and the rest is history!
Richard's son, Kyle, was also a NASCAR driver, and has enjoyed a successful career as a racing commentator. Kyle's son and Richard's grandson, Adam Petty, was a rising star in the racing world when he was tragically killed at 19 years old in a crash during practice in 2000 at the New Hampshire track, just five weeks after Lee's death. Adam's brother, Austin, works on day-to-day operations of Victory Junction, a special camp created in Adam's memory, and their two sisters are also involved in the foundation work and business. Richard's brother, NASCAR personality Maurice Petty, also purchased a beachfront cottage back in the day towards the West End, and has remained a Holden Beach homeowner all of these years.
Did you know? After a brief stint as a broadcast color commentator in his retirement, Richard also played himself in the 2008 film "Swing Vote" in which he allows the main character to briefly drive his famous "43" Plymouth.
Back to Holden Beach...
Richard shared that he remembers building a dune buggy of sorts using an old deSoto. "We took the body off -  it was made out of wood – and put on four big drag tires off a drag car," he said. Richard would drive over and through the dunes with all of the kids piled in the back (basically a car frame with seats and no top). Of course, those bumpy, fun (legal) jaunts (NOTE: Please obey the current law to stay off the dunes and refrain from such shenanigans – haha!) only happened when Richard joined his family at the beach. Martha Jane still chuckles about those being the "good old days" at Holden and so many fun family memories with the Pettys.
Mr. Petty remains very active, as both a NASCAR team owner with Richard Petty Motorsports in the Cup Series and as owner of Petty's Garage, a car restoration and modification shop in his hometown.
Closer to Home...
Homegrown Chad McCumbee has been a local hero of sorts as he's spread his wings in the world of racing. Born and raised in the Varnamtown area near Holden Beach, Chad began his racing career in 1995 at just 10 years old, following in his dad's footsteps as well. His father, Tim McCumbee, was a successful Motocross racer, a state-champion go-kart driver, and a dirt-track stock car driver. Chad spent five years in go-karts on dirt tracks, collecting nearly 100 wins over five years locally, regionally, and nationally.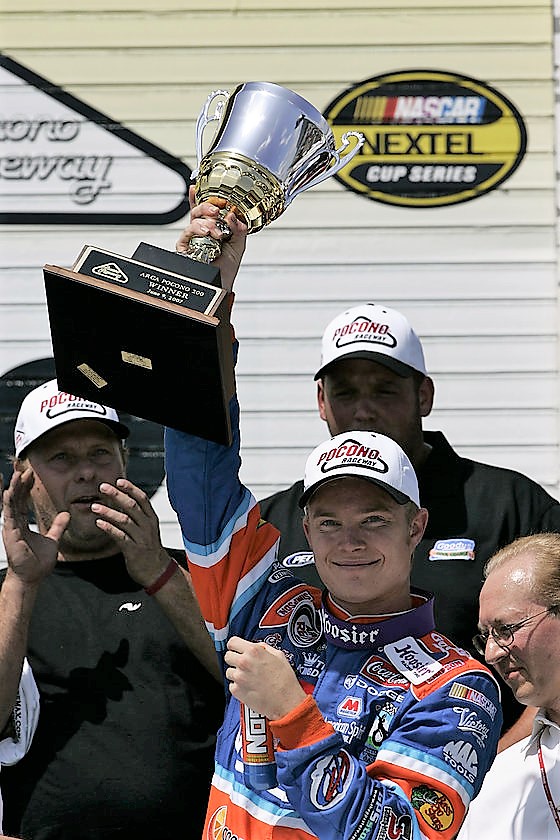 Although racing was a year-round commitment, Chad fondly recalls family days at Holden Beach with his parents and younger brother, days where they'd play and relax schedule-free for the day. Chad raced all through his high school years in Shallotte, where he went to school with the Hobbs kids, and, after graduating in 2002, he moved to Charlotte to attend UNC-C, not far from Lowe's Motor Speedway. "There was no question that's where I needed to be – in the middle of NC's hub of race-team garages, cars, and racing, and where I could also take a Motorsports and business course load."
From his start on the dirt tracks near home, he quickly advanced in the ranks to being named Rookie of the Year in 2001 in the Allison Legacy Series, along with regional and national championships. The next year's national title made him the first and only (so far) two-time champion of the series. The Late Model Stock Division was next for Chad in 2003, competing close to home in Myrtle Beach where he made his mark as the youngest rookie winner. Later in 2004 he debuted with the ARCA RE/MAX Series for Hillenburg, including 10 top-ten finishes, while continuing to run some local late model events.
Did you know? Chad played the role of Dale Earnhardt, Jr. in the ESPN movie "3,The Dale Earnhardt Story."
Chad Makes His NASCAR Debut...
Chad then competed full-time in the ARCA series, enjoying a break-out year in 2006 with his many top finishes. The next year Chad was in the NASCAR Camping World Truck Series while also competing in select ARCA RE/MAX Series races, bringing home two victories in the 2007 season at Nashville and Pocono.
That year also marked the year that Chad entered the big leagues of NASCAR as a fill-in for Kyle Petty (who was working in the TNT broadcast booth). As an up and coming driver with Petty Enterprises, he made his Nextel Cup debut at Pocono Raceway in the No. 45 machine, the day after his Pocono ARCA RE/MAX Series victory. It proved not to be his only victory, however, as he also married his high school sweetheart, Stephie, after she finished up at UNC-Wilmington in education.
Chad raced again at Michigan because of Kyle's broken hand and continued to run part-time for Petty's No. 45 entry with his best finish of 17th at Pocono. His portfolio of racing, wins, and driving experiences continued to expand through the years as he continued in the Camping World Truck Series the next couple of years with a long list of respectful finishes, including eight top 10 finishes in 2008 (two top fives). He also gained experience in the Sprint Cup Series by making six starts for Petty Enterprises and was the top choice for Kyle's replacement in the 45, signing a contract in 2009 to drive full-time for the Petty group before the iconic enterprise shifted in ownership.
The NASCAR Nationwide Series was next in 2010, followed by Andy Belmont Racing and ModSpace Motorsports tapping him to finish the season in the ARCA Racing Series, where Chad helped build the program to finish the season off with 5 straight top-10 finishes, culminating in a Talladega showing. The ARCA Racing Series and more championships filled the next year before he was hired in 2012 by LA Angels pitcher CJ Wilson to drive for his team in the Grand-Am Road Racing Series. Chad surprised everyone with qualifying his Mazda in the top-10 4 out of the 10 road-racing events….and his race world story has continued through various series and many wins and successes ever since.
Chad definitely recognizes the blessings in his life over the years, including his current partnership with Mazda that surfaced as he and his wife moved back to Brunswick County in 2012 and he contracted with them as a driver. In addition to racing in various series, he also owns a couple of Late Model Stock Car racecars that he races in Myrtle Beach, as well as a race shop in Supply where he provides team support for Mazda racecars and teams.
"The Holden Beach area was a great place to grow up and I'm grateful to be able to come home to raise our family," Chad said as he talked about just returning from the U.K. with his two-year-old son and Stephie after participating in a Ford event. "As a NC kid, I always wanted to work with a NC team, and if I could have picked one team to be associated with back in the day, it would have been Petty. I actually had my first real closed-door meeting with the Pettys. It was amazing!"
When asked about The King himself, Chad thoughtfully shared, "We see this figure of The King, a powerful presence in the race world. But Richard Petty himself is something different. We know him as the absolutely easiest person to talk to, in real conversations where race cars may not even come up." Chad remembers fish fries at the Petty's Level Cross home and Richard always creating a "good home-like feeling for his racing family."
Life Beyond Racing... 

While Richard Petty and Chad McCumbee represent the unique world of loud, fast cars and bands of faithful fans, they also represent what being a good man and community member means. Faith is a big part of Chad's family life on or off the road, and they've also worked with The Racing Brotherhood Foundation, a charity based in Myrtle Beach which supports families of race car drivers during medical crises.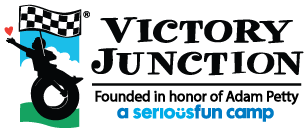 Richard's company and family support many great charities, too, but the one closest to their hearts and in Richard's retirement is Victory Junction, the camp for special children. The passion Adam had for racing as a 4th-generation competitor during his short life was rivaled by his compassion for children in need, and his vision was fulfilled when the doors opened in 2004 for the camp created and built in his memory on land donated by Richard and Lynda Petty. Each year, children flock to the Randleman, NC camp to experience what it feels like to just be a kid without being confined by disease, illness, or disability. The kids attend camp for free, attend the same week as other children with the same medical challenges, and are accompanied 24/7 by trained volunteers.
So, in the only NASCAR-themed camp medically equipped for all children, not only is Adam's memory and vision honored, but children are laughing, playing, and making friends. 
"We see Adam every time we see a happy kid, and it makes us feel good, too."




– Richard Petty
There are plenty of ways to give — not only to keep Adam's memory alive, but to help children experience the carefree fun of summer days during their week at Victory Junction. Learn more about giving back.