1 May 2023
What do you think of when you dream about your next Holden Beach vacation?
Perhaps you think about how peaceful it is to watch the sunrise over the ocean while sipping coffee from a rocking chair on the deck of your Holden Beach oceanfront vacation rental. Maybe the first thing that comes to mind is those relaxing walks along the shore while searching for beach treasures to collect in your complimentary Hobbs Realty beach bucket. For some, it might be heading straight to the saltwater for a swimming, surfing, or fishing session.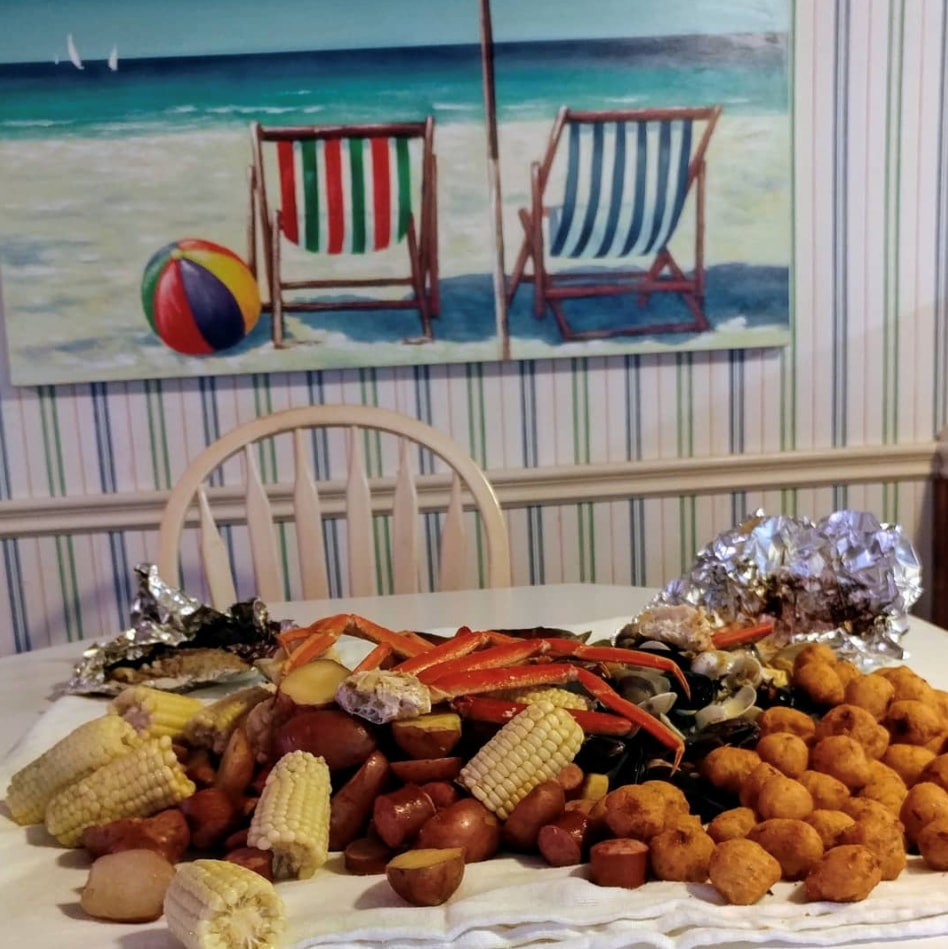 Or, maybe it's that first seafood dinner for your Holden Beach getaway. You know the one – that plate full of fresh seafood right off the local fisherman's boat caught that same day... the delicious, salty North Carolina seafood that is lightly seasoned and served with some honey-buttered hushpuppies and fresh vegetables... simple, yet delicious. 
While we encourage you to enjoy the many delectable seafood restaurants in our area during your visit, you'll love taking advantage of the well-equipped kitchen in your vacation rental and our amazing local seafood markets to whip up your own savory appetizers and meals. Amazing seafood experience, coming right up!
Shopping for your dinner at our local Holden Beach seafood markets and produce stands can not only save you a few dollars but also allows you to enjoy local seafood with your family from the comfort of your Hobbs Realty vacation rental gathered around the spacious dining table or out on the deck surrounded by the cool breezes of dusk on the island.
Cooking in Your Holden Beach Vacation Rental
We work with our homeowners to ensure our beach rentals have fully-stocked kitchens that provide you exactly what you need during your stay in your home away from home, including large and small appliances and a variety of cookware, dishes, utensils, glassware, serving dishes, and more.  A charcoal or gas grill is also provided for your use at each beach cottage.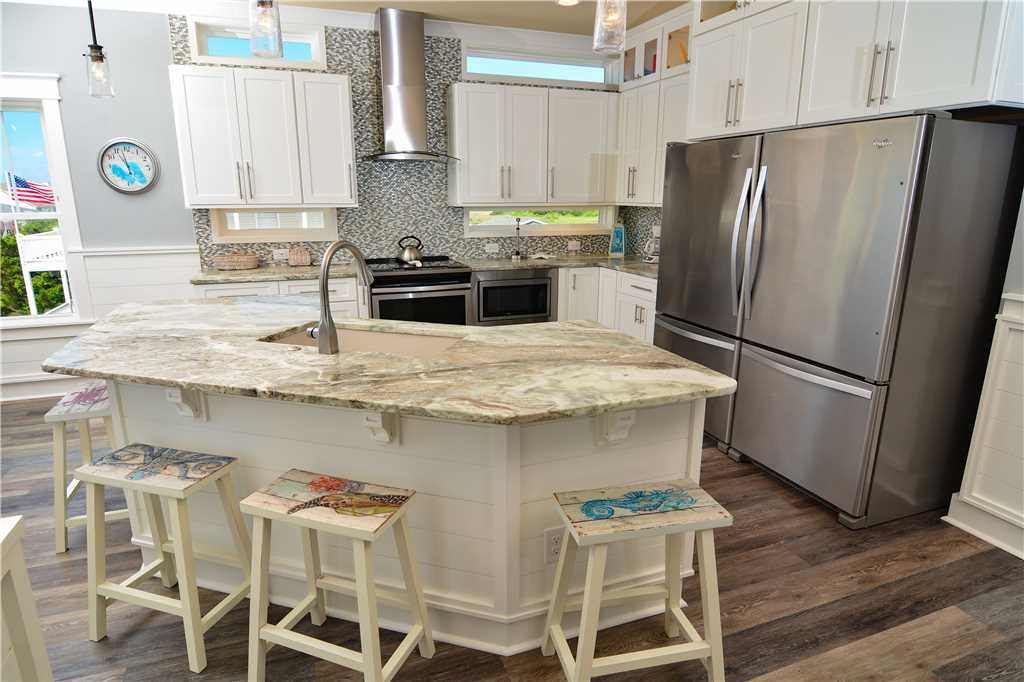 Cooking seafood might seem a bit daunting if you aren't familiar with how to do it. Our simplest advice is to season it gently, cook/serve it with butter and a squirt of fresh lemon, and take care to not overcook it. If you aren't sure, don't be afraid to ask the fishmonger at one of the neighborhood seafood markets or the local who's fishing on the Holden Beach Pier – they live and breathe seafood, and will likely be happy to offer advice.
Steamed shrimp is one of the easiest things to make. Just grab a couple of pounds of fresh, locally caught shrimp at one of the seafood houses, plus some butter and Old Bay seasoning. Back at the beach house, grab a large steamer pot, add some water and sea salt, and bring it to a boil. Add the shrimp into the steamer basket along with some Old Bay, put the lid on, and steam for 4-6 minutes – being careful to not overcook. Depending on how many shrimp you are cooking and the size of your pot, you may need to shake them around a bit halfway through to ensure they are cooking evenly. When they are done – they've all turned from gray to a light pink color – drain the shrimp and toss them in a bowl with a little melted butter and a side of cocktail sauce if you'd like. Grab plenty of napkins, peel, and eat!
Depending on the season, options might include an oyster roast or some good old-fashioned clam chowder! Still not sure? Head on over to Old Ferry Seafood where they not only sell a variety of local seafood but also offer some easy take-home options that are prepared and ready to cook.
Old Ferry Seafood
Anna Robinson owns Old Ferry Seafood in Supply NC, with her husband, Phil Robinson. Phil is also a commercial fisherman, and when you stop by the shop at least one of them is always there. Anna said they have been catching and cooking seafood for the better part of 30 years.
"We buy as much locally caught seafood as possible, including shrimp, grouper, flounder, snapper, clams, and oysters - depending on what is in season," Robinson said. They also receive fresh scallops from Virginia each week, and other items from Morehead City, the Outer Banks, and all the way up to Maine.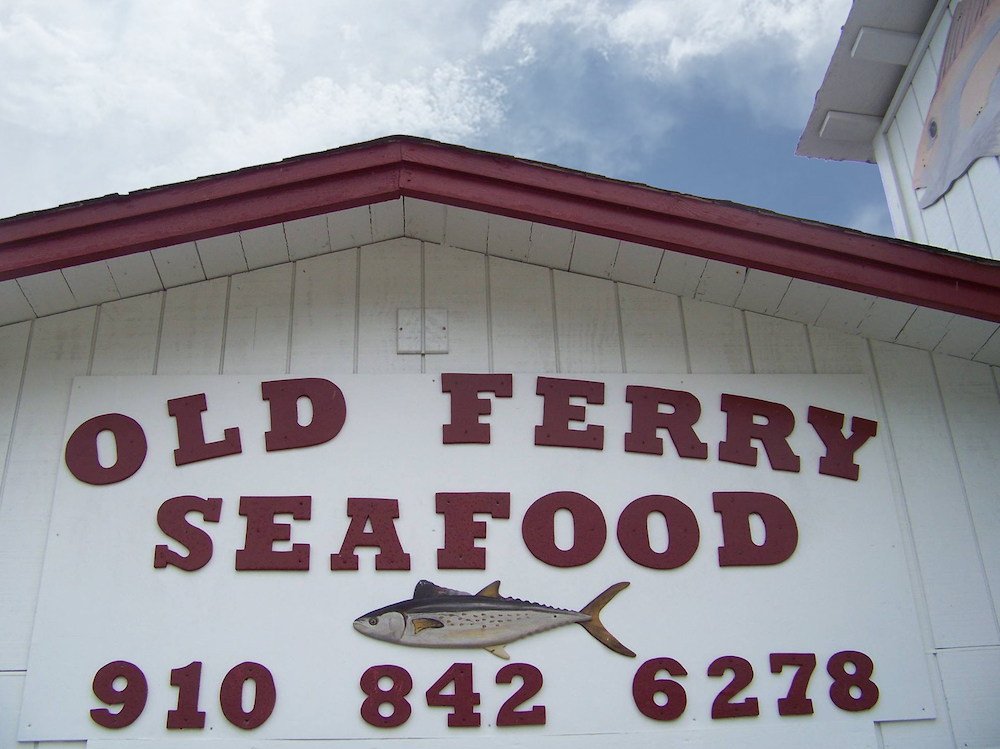 One of the things they do at Old Ferry Seafood is to prepare seafood dinners for customers to take home and cook. Their most popular is low country boils (similar to the Frogmore Stews, clambakes, or steamer pots known in other areas). This fun Holden Beach tradition often includes clams, shrimp, mussels, sausage, onions, potatoes, corn, and seasoning. Simply haul the purchase back to your vacation home, add some beer or water, and cook it on your grill or in your oven. The Robinsons also make pans of fish and scallops that are ready to cook, complete with butter and seasoning.
Anna said, "We are also more than happy to offer recipes and cooking tips to our customers. That's one of our favorite parts of the business." Whether you prefer your seafood grilled, steamed, baked, or fried, the Robinsons can send you off equipped for the perfect, delectable, homecooked seafood experience.
With the convenient waterway location of Old Ferry Seafood, local fishermen actually dock by the shop to unload their catch. There isn't a set schedule of when the boats stop by, but Anna said local fishermen are normally spotted in the morning unloading their shrimp boats or delivering flounder, spot, and clams. If you're fortunate to time it just right, feel free to watch – and then be first in line inside to select some of that fresh catch to take home.
To get to Old Ferry Seafood, as you come off the island on the Holden Beach Causeway, turn right at the stoplight onto Sabbath Home Road, then another slight right onto the historic Old Ferry Road across from Food Lion. When you get to the end of the road at the Intracoastal Waterway, turn right onto Songbird Lane and you can't miss it. Anna and Phil will be happy to see you! 
Old Ferry Seafood, as well as the other area Holden Beach seafood markets listed below, are members of Brunswick Catch. This organization has a mission to promote and highlight the Brunswick County seafood industry, with a focus to sustain its livelihood and heritage. 
Seafood Markets Near Holden Beach
Beacon 1 Seafood
1 Fisherman Road, Supply
(910) 842-2203
Capt'n Pete's Seafood Market
101 S Shore Drive, Holden Beach
(910) 842-6675
Carson Varnam Shellfish Market
175 Varnamtown Road, Supply
(910) 842-6425
Dixon Shellfish
137 Varnamtown Road SW, Supply
(910) 842-6565
Doug's Seafood Market
4483 Main Street, Shallotte
(910) 754-9072
Finz n Tailz Fish Company
3330 Old Ferry Rd SW, Supply
(910) 842-5165
Garland's Fresh Seafood
2 Fisherman Road SW, Supply
(910) 842-6492
High Rider Seafood
22 Fisherman Road, Supply
(910) 842-6866
Holden Beach Seafood
2224 Holden Beach Road SW, Supply
(910) 842-6276
Holden's Seafood
3783 Bill Holden Road, Shallotte
(910) 754-8201 
Old Ferry Seafood
1069 Songbird Lane SW (End of Old Ferry Road), Supply
(910) 842-6278
Holden Beach Area Produce Stands
You'll need some great veggies and fruits to complete your meal planning. There are a few local produce farms right here in the area, and a farmer's market in Shallotte that is open May - September on Saturday mornings and Wednesday evenings. Fresh tomatoes, potatoes, okra, cucumbers, sweet corn, green beans, berries, melons... you get the idea. These local stands will quickly become favorite stops to stock up for the week.
Ludlum's Produce
2401 Holden Beach Road SW, Supply
(910) 842-6253
Shallotte Farmers Market
123 Mulberry Street, Shallotte
(910) 754-4032
Plan your Next Holden Beach Getaway!
Indulging in delectable seafood is just one of the numerous fantastic aspects that make Holden Beach the perfect vacation spot for you and your family! Take a look at our array of Holden Beach oceanfront rentals or reach out to our knowledgeable #Hobbspitality Team today at (800) 655-3367 to iron out the specifics... and get ready for a delightful seafood feast!
We can't wait to welcome you to the beach soon!
**
Darcy Geho is a contributor to this specific Hobbs Realty blog. She spent 11 years working in the vacation rental industry while she lived on and traveled the North Carolina coast. Like most of our visitors, when Darcy isn't at the beach she looks forward to her next visit. In her spare time,