8 Aug 2023
When you're responsible for choosing the perfect Holden Beach vacation rental, it can sometimes seem quite daunting. Between finding time to review websites, factoring in everyone's budget, or simply getting your group's busy schedules aligned to join each other for one glorious week on Holden Beach, there are many decisions you need to make on behalf of your family and friends - and you want to get it right.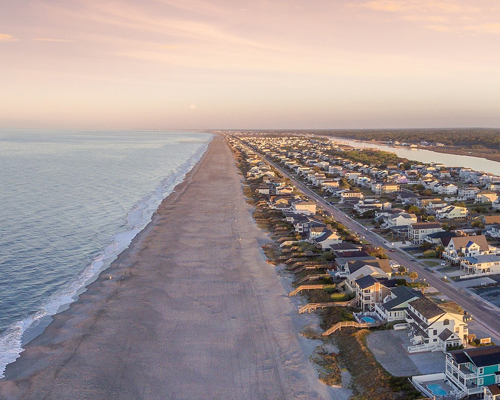 The good news is planning a Holden Beach vacation with our #Hobbspitality experts makes things much simpler! So, grab a snack and beverage; take a few minutes for a thorough vacation rental search; and consider some important questions…. What property type is best for you? In which area of the island do you want to stay? Which amenities are most important for your family?
Let's explore our rental types, areas, and amenities to help make your choice much easier. And, as always, you can give us a call at (800) 655-3367 if you need any extra assistance.
Rental Types
Use this quick reference for an explanation of our three types of vacation rentals - condo, duplex and single family. You'll enjoy the perks of each!
Single Family — A single-family house is a stand-alone vacation rental that is not attached to any other structure. With plenty of locations all over the island, our well-maintained single-family homes offer a variety of amenities and comforts that are designed to make you feel at home.
Duplex — A duplex, simply put, is one house that is divided into two private halves. A duplex is normally larger than a condo, with two floors and separate private guest entrances for each side. The decks and boardwalk to the beach (if oceanfront) can be individual per side or shared by both units. Some duplexes even offer inter-connecting doors that "convert" the property into one  vacation home! If you have a large family but also want some privacy, renting both sides of a duplex can be a great option.
Condo — Spending your vacation in a condo unit can be optimal for a smaller family group and easier on your budget. Condos can are one-floor units in a multi-unit structure.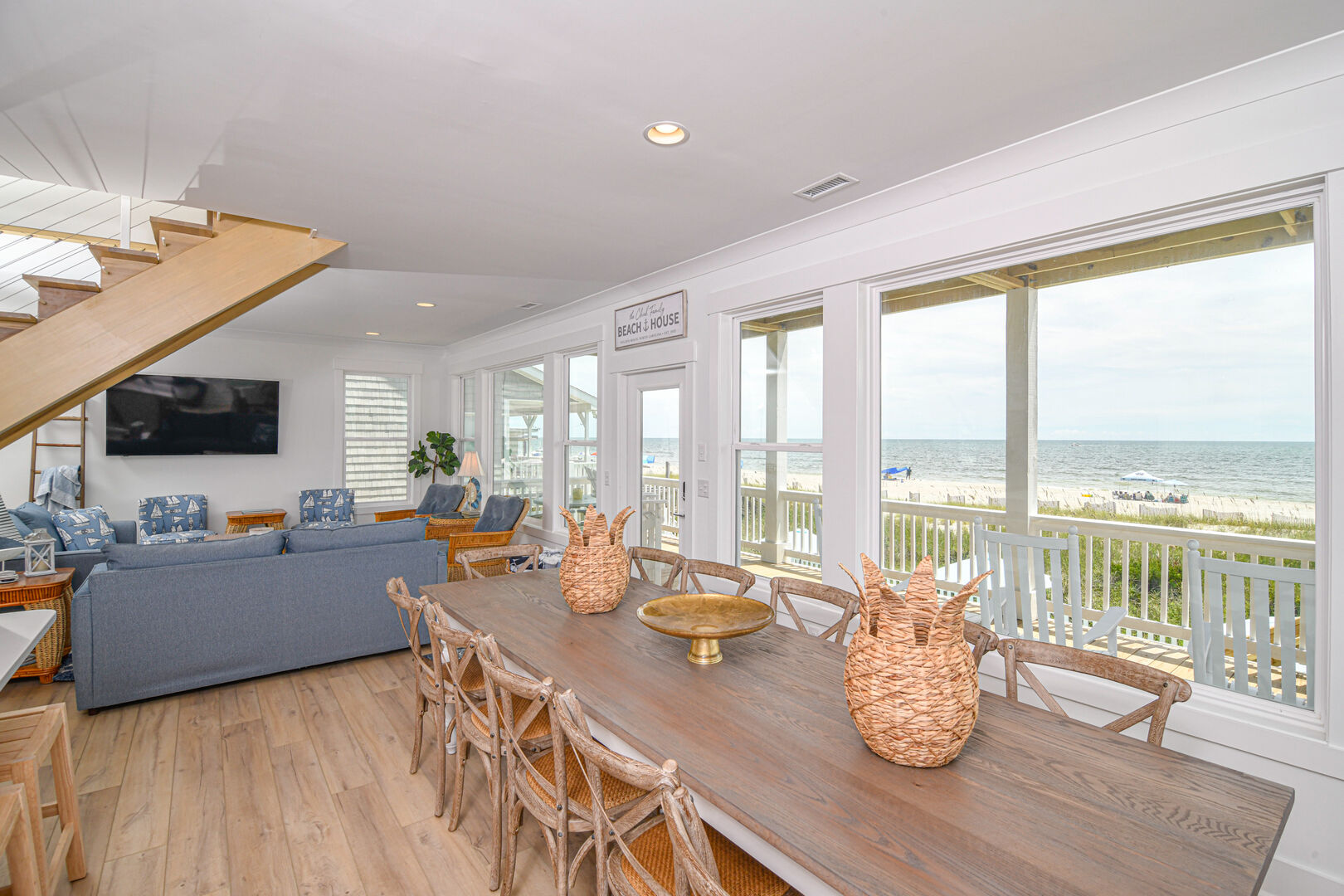 Rental Areas
For your next vacation with Hobbs Realty, check out all of the areas to select the perfect place, including boulevard, canal, dunes, oceanfront, and waterway locations. Wherever you choose, you won't be far from beautiful water views, amazing sunrises and sunsets, or any of your favorite island festivities, activities, or happy places. And, no matter where you stay, your family will make Holden Beach vacation memories to cherish.
Oceanfront — The oceanfront area of Holden Beach doesn't need much explanation. These vacation rentals are located on the white-powder shores of the Atlantic Ocean, boasting amazing east to west views. Oceanfront homes along Holden Beach offer boardwalks with steps or winding, sandy paths to the strand. Our Holden Beach Oceanfront homes make trekking to and from the beach with young kids and babies more managable with walkways to the shoreside and outdoor showers to rinse sandy, little feet as welcome conveniences.
Boulevard  — Our boulevard area vacation rentals are sometimes called second row rentals - located right across the street from the ocean on Ocean Boulevard (which is the main road that runs east to west on Holden Beach). Many of these vacation homes offer amazing ocean views and short walks to the beach. Public beach access locations are provided and maintained by the Town of Holden Beach, and are marked by signage along our main road. These locations are also noted on the rental home's property description page. Some boulevard homes back up to the head of a canal, providing convenient water access and a bonus water view and place to relax. Staying in boulevard homes can provide convenient access to the surrounding neigborhoods and Ocean Boulevard for walks and bike rides for guests of all ages.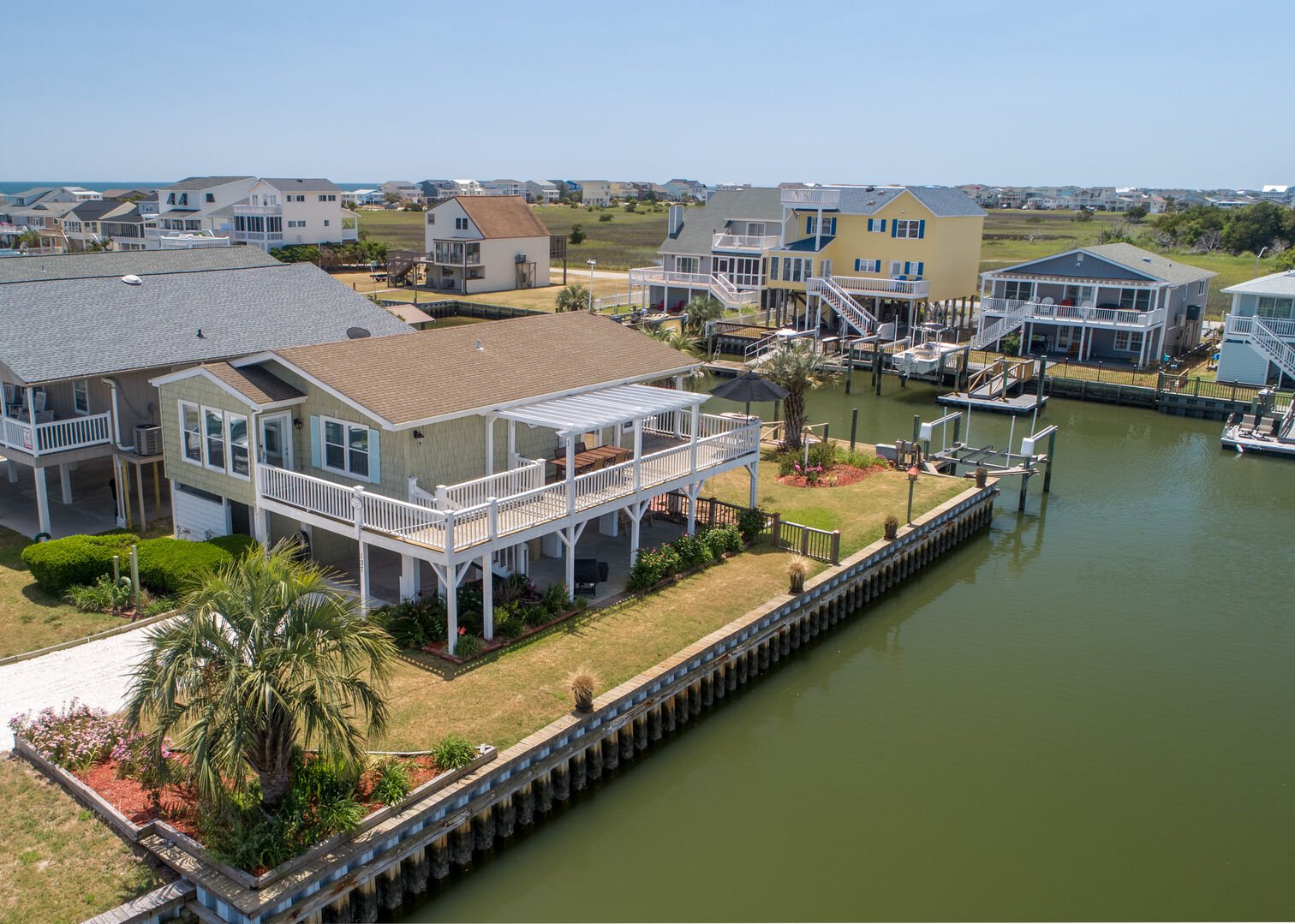 Canal —  Our Holden Beach Canal homes are located along the canal waterfront on one of the three sets of canal communities located along Ocean Boulevard West that are fed from the Intracoastal Waterway. The side streets that take you to the canal vacation rentals are quiet and safe - just far enough off the main road (Ocean Boulevard), yet usually within just a few minutes walk to the nearest public or private community beach access. Many canal homes offer a private boat dock and are the perfect choice for guests wanting to bring their own boat or jet ski - or to rent one locally. Kids of all ages have a fabulous time fishing off the dock, paddleboarding, jumping in for a swim, or floating around in the canal. The canal neighborhoods are also popular for evening strolls and bike rides, or enjoying beautiful evening water and sunset views from the deck.
Dune — Our Dune vacation rentals that are located on parts of Holden Beach that are not on water. These vacation rentals are also referred to as the "inland" part of the island, located between the ICW and the ocean. Families often enjoy these locations for fun times in the neighborhood when they've had enough sandy fun for the day!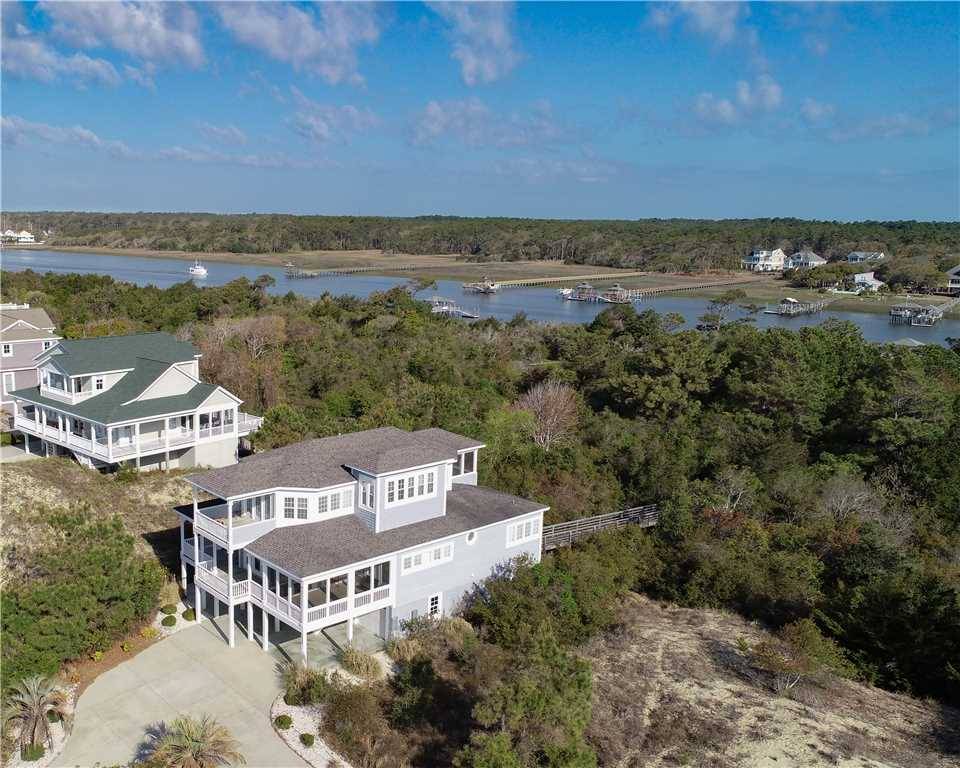 Waterway — Waterway properties are situated along the waterfront of the Intracoastal Waterway, where it flows between Holden Beach and the mainland. You'll be amazed at the beauty of the boats parading by from your waterfront deck, and you're sure to enjoy catching some fish from your vacation rental's backyard or settling in a deck chair to enjoy the sunrise or sunset. Some waterway vacation homes also back up to a canal for a double dose of splendor. Be sure to check ahead of time online to see if your selection has a private dock for guest use or a community dock for day docking and fishing. 
We also have the east and west ends of the island.
You can visit our vacation home search page to filter for the type of home you're looking for, and use the map on the page to determine which end of the island the home is located.
East End - When you come off the Holden Beach and take a left to follow Ocean Boulevard all the way to the east end of the island. You'll find homes of all varieties, including those located in the private community of Dunescape. Views galore, private roads for biking, and amenities such as tennis courts are added perks for this community. East end homes allow the unique opportunity to walk from the ocean beach strand around the end by the inlet connecting to conecting to Oak Island and around to the ICW which is also fed by the Lockwood Folly River. Beautiful sights are in store on this part of the island!
West End - When coming off the bridge, take a right and follow the boulevard all the way down to the gated community. Most of the Hobbs Realty vacation homes on the west end will have at least one beautiful view of the ocean, waterway, marsh, or Shallotte Inlet, with some providing nearly surround views (and sounds)! The community is an amazing area for bike riding, jogs, and walking around from the oceanfront to the Shallotte Inlet and around to the waterway side. (And one of the Kindred Spirit mailboxes is located here.)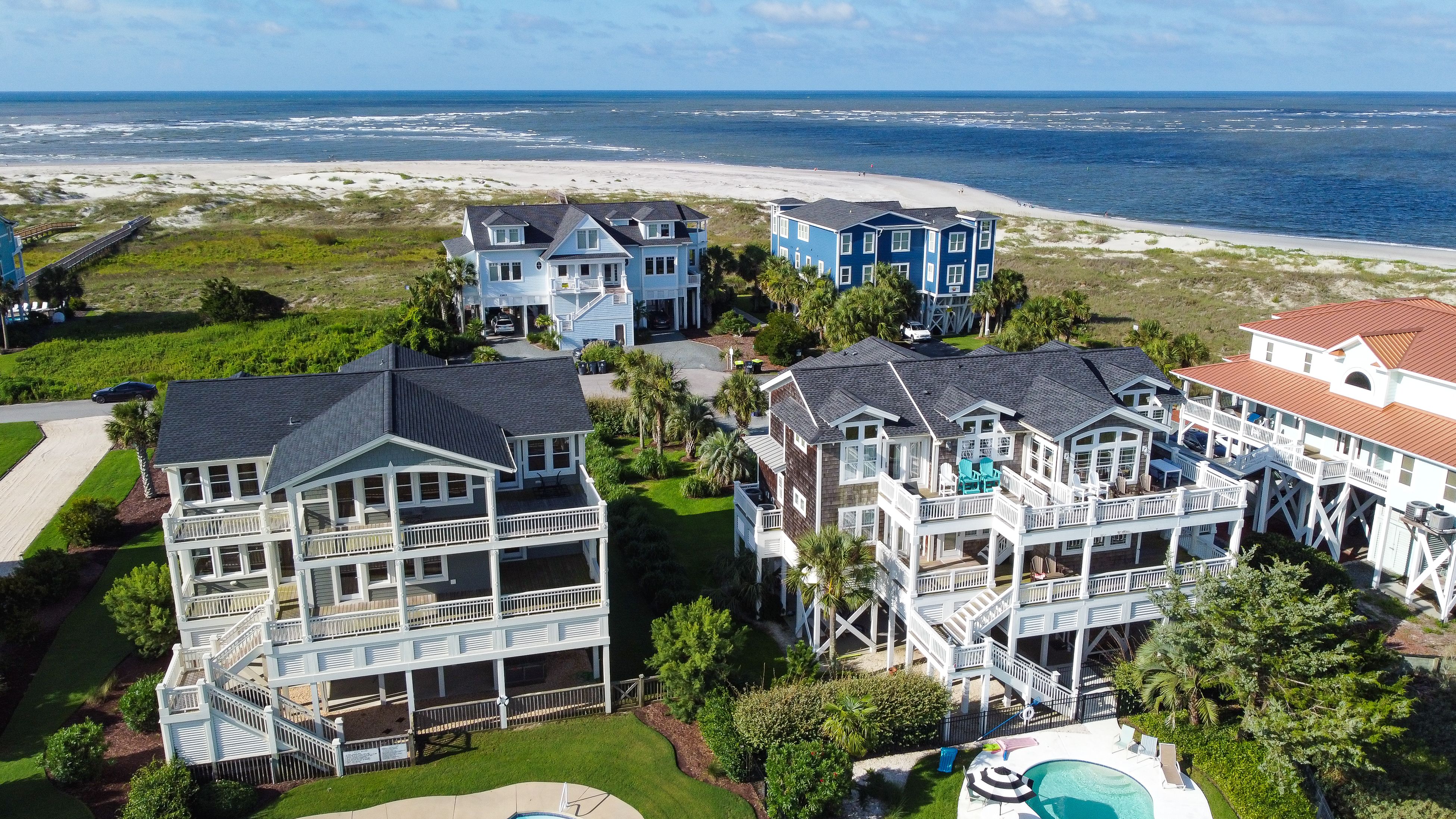 Amenities
For your convenience, all Hobbs Realty vacation rentals provide bed linens, so you don't have to hassle with bringing bed sheets or pillowcases with you. All of our Holden Beach vacation homes also have wireless internet and other important features to create a pleasant stay. You can either bring your or towels or rent them from us. It's easy to order during the online checkout process when you book your vacation rental, or email your request to rentals@hobbsrealty.com. You can always ask a member of our #Hobbspitality Team at (800) 655-3367.
Other amenities vary by home, but some popular amenities include pools, hot tubs, boat docks, decks, elevators, and fireplaces. We also offer dog-friendly homes, smart homes, homes with two living areas, and more! Simply select which amenities are most important to you in our vacation rental search by clicking "Show Filters." 
Hope to See You Soon!
We hope this information helps simplify your search process for the ideal Holden Beach vacation rental for your family's next beach vacation. You can also visit our How to Search for your Vacation Rental page for more information. It's always a pleasure to assist you, so give us a ring if you need to discuss your needs or questions at (800) 655-3367.
We look forward to seeing you soon... at the beach!