17 Sep 2022
Bushels of Holden Beach Autumn Traditions
Schools and colleges may soon be back in session, but there's no stopping our southern Brunswick island from celebrating all the colors, delectable fares, and festivities of fall!
Folks from afar and across the region always look forward to the last full weekend of October around here and we can't wait to resume a local favorite tradition this year - when the  Annual Festival by the Sea will again fill the streets of Holden Beach with exciting sights, savory scents, and amazing sounds. The free event is slated for October 28-30, 2022.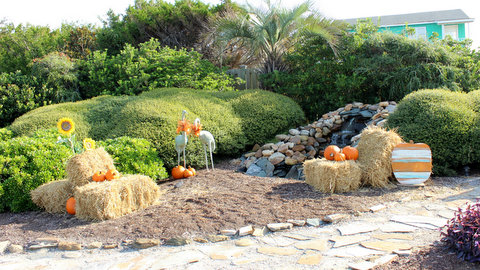 In the meantime, autumn in the Holden Beach community also means church fall festivals, turkey shoots, incredible shelling, brilliantly deep sunsets, favorite fishing holes, and oyster roasts!
What is an oyster roast, anyway?
There's nothing like it.
While oyster roasts can take on different cultural flavors, depending on the coastal area and waters, historians think they date back to the early 1600s to Native American traditions and made their way down the coast to our most southeastern tip of North Carolina. An English settler, George Percy, wrote, "We came to a place where they had made a great fire, and had been newly roasting Oysters. When they perceived our coming, they fled away... and left many of the Oysters in the fire. We ate some of the Oysters, which were very large and delicate in taste."
And what a wonderful southern coastal tradition oyster roasts have become, perfected in Brunswick County style over the years. TIP: We follow the "R month" rule for eating oysters (in other words, if the month doesn't have an "R" in it, consider a fish fry instead).
This is how we have an oyster roast (Holden Beach-style).
We start with the perfect bushel – or two – of oysters. Typically, a bushel will feed 4-5 people, depending on the appetites. It helps to know the right connection through word-of-mouth (ask a local) or a reliable local oyster house (see the list of recommendations at the end of this blog).  
Then, there's the fire pit. There are numerous ways to rig a good, hot fire, but a favorite here is using a 50-pound barrel with holes drilled around the base so the fire will light. Oak wood is a premium for the perfect fire (and some locals are even known to use a leaf blower as a quick-starter for that spontaneous gathering of friends and family).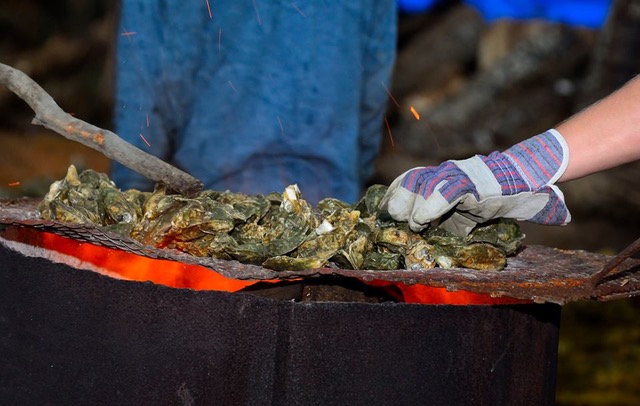 A metal sheet/grate is placed on top of the barrel, with a thick layer of oysters piled on top (rinse the mud off the shells first). And then we patiently wait as the delicacies are steamed-grilled and their mouths crack open enough to fit your oyster knife (the longer they cook, the less juicy they are and the more roasted they taste - but don't overcook!).
The oysters are then dumped on the table (often a makeshift large piece of plywood across sawhorses), and the feast begins as everyone eats their weight in roasted oysters and the next batch is thrown on the grill. The oysters are still attached and piping hot. That's when you don a work glove on one hand and use the knife in the other to coax the oyster out of the shell.
And what's an oyster roast without the popular sides of homemade corn bread or Saltine crackers, melted butter, hot sauce, homemade sweet pickles, and your beverage of choice? Whether it's a Thanksgiving night tradition, a local fundraiser, or a spontaneous gathering of friends after a successful day of oystering, there's no better way to keep the coastal chill of autumn nights at bay than around a barrel fire, roasting oysters, and enjoying cozy fellowship with neighbors and loved ones.
Did you know?
Oysters are bi-valve mollusks that can live up to 40 years and grow up to eight inches. But most N.C. oysters are harvested at about three years of age at the minimum harvest size of three inches.

An oyster is carried out by currents when it's young, but, as it matures, it sinks to the bottom. Oysters need to land on a hard surface to survive, so that's why it's common to find them growing on rocks or in clumps.

Harvest season for oysters is October – March in shallow waters and intertidal areas with tongs, rakes, or by hand (or by dredge in some areas).
Here are a few of the popular seafood houses to purchase local oysters in the Holden Beach area:
Old Ferry Seafood
1069 Songbird Lane SW, Supply, NC
(910) 842-6278
Beacon 1 Seafood
1 Fisherman Road, Supply, NC
(910) 842-2203
Carson Varnam Shellfish Market
175 Varnamtown Road, Supply, NC
(910) 842-6425
Finz n Tailz Fish Company
3330 Old Ferry Rd SW, Supply, NC
(910) 338-6579
Garland's Fresh Seafood
2 Fisherman Road SW, Supply, NC
(910) 842-6492
Holden Beach Seafood
2224 Holden Beach Road SW, Holden Beach, NC
(910) 842-6276
Dining out:
For a fun vibe and unqiue oyster dining experience on the Calabash River, check out The Oyster Rock, which offers a fresh-catch, from-scratch menu worth the 30-minute drive. 
Considering gathering your own oysters?
Please understand oysters seasons and limitations before gathering your own. Visit the North Carolina Division of Marine Fisheries website for details.
Visit Holden Beach, NC
Embark on your ultimate Holden Beach vacation - Indulge in an unforgettable oyster roast and discover a world of endless possibilities. Delve into our array of Holden Beach vacation rentals featuring pool amenities, and secure your booking to relish in the abundant offerings of this captivating coastal town.