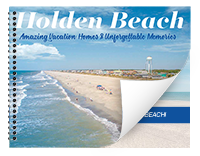 We're excited to host your upcoming Holden Beach vacation Hobbspitality style! The Hobbs Realty Team wants your vacation experience to be as easy as possible starting on day one - from navigating the reservation process online or by phone, using our custom GuestWeb™ portal to manage your booking, to understanding our policies and learning about check-in and departure procedures - and all the details in between.
Please note that advertised rates, discounts and specials are available for direct bookings only, and are not available on third party booking websites. If after reviewing these helpful links you have questions, please feel free to call us at 800-655-3367 or email us at Rentals@HobbsRealty.com.
For more information please click on links below.
All of Hobbs Realty managed homes are non-smoking. Smoking inside of a non-smoking home will result in a fee of $1,000 due by Guest of Record and charged to the credit card used for payment. Violation of this provision shall be grounds for expedited eviction.
Unless otherwise specifically permitted in this Agreement, no pets/animals shall be allowed on the premises.* Guest's breach of this provision is considered material and shall result in the immediate termination of Guest's occupancy and a non-refundable undisclosed pet fee of $3,000 will be due by the Guest of Record and charged to the credit card used for payment. 
*Browse our dog-friendly properties to learn about bringing your dog or service animal on vacation.
Back to Top a) Agent agrees to provide the premises in a fit and habitable condition. If at the time Guest is to begin occupancy the Agent cannot provide the premises in a fit and habitable condition, or substitute a reasonable comparable property in such condition, Agent shall refund to Guest all payments made by Guest. Agent shall conduct all brokerage activities regarding this agreement without respect to the race, color, religion, sex, national origin, handicap, or familial status of any guest. b) Guest agrees to keep the premises as clean and safe as the conditions of the premises permit and hereby agrees to permit no unsafe or unsanitary conditions on the property. Guest agrees not to use the premises for any activity or purpose that violates any criminal law or governmental regulation. Any breach of any duty contained in this paragraph shall be considered material and shall result in the immediate termination of Guest's tenancy. c) All units are individually owned and furnished according to the owner's preference with each providing standard amenities and appliances. d) Many properties contain a guest book provided by the owner for guests to share their vacation experiences. Maintenance issues and/or requested repairs should be submitted directly to Hobbs Realty as the Agent is not responsible for any information written in the guest book. e) No refunds will be issued for construction at adjacent or nearby properties. f) Outdoor grills are not to be operated on porches or decks, underneath homes, or within 10 feet of rental property due to fire hazards.
Hobbs' guests have the ability to plan ahead for next year's vacation by booking an Advance Year Tentative Hold in the same house/corresponding week by 5:00 PM on the Wednesday of your stay. Simply call our dedicated Advance Year Booking Line (855) 948-0699 to speak to a #Hobbspitality Vacation Rental Whiz before closing on the first Wednesday of your stay. A $100.00 (+ tax) non-refundable holding fee is required and does not apply to the rent. We publish next year's rental rates in early December and release guest contracts with updated rates and fees mid-December. The first half payment is due January 15, with the final balance due 30 days prior to arrival. The Advance Year Tentative Hold is not a guarantee of rental rate or property availability. It does guarantee you first choice in the property for the stay dates requested. Final availability is based on annual owner contract renewals.
Back to Top a) No refunds are given for inoperable and/or malfunctioning appliances such as, but not limited to, HVAC systems, electronics, or utilities (including phone, internet, and cable). All repairs are scheduled based on vendor availability. The Guest is required to report in writing to the Agent the need for replacement or repairs of a smoke detector and agrees to replace the batteries as needed during the tenancy. Due to the tropical environment of Holden Beach, there will be NO REFUNDS for pest control issues. b) No refunds will be given due to lack of utilities services due to power blackouts, water shortage, flooding, etc.
Back to Top a) To protect your vacation investment dollars, Hobbs Realty strongly urges each Guest to purchase the Generali Global Assistance Travel Insurance offered. Cancellation of a reservation is required by the Guest of Record in writing and will be subject to a $300 cancellation fee. If the property is re-rented for the full period of the cancelled reservation and confirmed with a paid deposit, a refund to the Guest will be issued, less any fees incurred. The processing fee, Insurances, and all other elected fees are non-refundable. If the property is not re-rented for the full time period of the cancelled reservation, all monies paid will be forfeited due to the availability of Travel Insurance. b) Hobbs Realty reserves the right to cancel a reservation with an overdue balance without notification.
Check-in time is 4 PM. While Hobbs Realty diligently works to ensure all properties are ready for occupancy at 4 PM, delays can occur. Hobbs Realty does not issue refunds for occupancy later than 4 PM. Parking at the property prior to 4 PM will delay your check-in. Hobbs Realty offers a limited number of 1 PM early check-ins for a fee of $150 (+taxes).
Check-out time is 10 AM. Hobbs Realty reserves the right to charge a non-check-out fee of $300 (+taxes) to the Guest of Record for not officially checking out by 10 AM. To avoid this charge, follow the posted check-out instructions and return all keys to Hobbs Realty (or if in a keyless property use the check-out code of 123456 followed with a * (star) or ✔ (checkmark) - whichever is on the bottom left - to notify the office that you have vacated the home by 10 AM). Hobbs Realty does offer a limited number of 12 noon late check-outs for a fee of $150 (+taxes).
a) The Damage Protection Plan is required for ALL reservations. The Damage Protection Plan/Insurance will be waived if you choose to purchase third-party coverage and submit a copy of the policy to Hobbs Realty. Hobbs Realty understands that guests do not intentionally set out to damage or break things in the vacation home they rent, but accidents happen. The Damage Protection Plan does not release the Guest from liability for any damage due to the following:
Intentional, willful, reckless, or malicious acts of Guest or others on the premises during the tenancy
Damage by dogs
Items missing from the premises
Gross negligence of Guest or intentional misuse of furnishings, appliances, equipment, or other amenities provided with the home
Damage caused while under the influence of alcohol or drugs
Damages to real property resulting from the operation of any motorized equipment by Guest
b) The Damage Protection Plan includes the Guest of Record and all members of Guest's party and guests thereof. All damages must be reported to Hobbs Realty before check-out. This plan is not available for tenancies of 30 consecutive days or more or events, large groups such as weddings, reunions, or corporate retreats. Guests in this category, when approved, will be required to pay a refundable event deposit. This Damage Protection Plan covers unintentional damage to the property that occurs during your stay, provided the damage is disclosed to Hobbs Realty prior to check-out. The policy will pay a maximum benefit of $5,000, and any damages that exceed $5,000 will be due by the Guest of Record and charged to the credit card used for payment. If you damage the real or personal property assigned to your rental accommodation during the trip, the Insurer will reimburse the lesser of the cost of repairs or the actual cash value of the property, up to $5,000. Certain terms and conditions apply. Full details of the Damage Protection Plan coverage are contained in the Description of Coverage or Insurance Policy. By submitting payment for this plan, you authorize Generali Global Assistance to pay Hobbs Realty Inc. any amount payable under the terms and conditions of the Damage Protection Plan. The Damage Protection Plan does not negate your responsibility as a guest (see SECTION #5-GUEST RESPONSIBILITIES, SECTION #12-ABSOLUTELY NO UNDISCLOSED PETS, and SECTION #13-ABSOLUTELY NO SMOKING). The guest is responsible for any missing items that occur during their stay.
If the tenancy created hereunder is for 30 days or less, the expedited eviction procedures set forth in the Vacation Rental Act will apply. Tenant may be evicted under such procedures if Guest: 1) holds over in possession after Guest's tenancy has expired; 2) commits a material breach of any provision of this Agreement that according to its terms would result in the immediate termination of Guest's tenancy; 3) fails to pay rent as required by this Agreement; or 4) has obtained possession of the premises by fraud or misrepresentation.
a) This agreement shall be governed by and interpreted in accordance with the laws of the State of North Carolina. b) This agreement shall be treated as though it were executed in the County of Brunswick, State of North Carolina, and were to have been performed in the County of Brunswick, State of North Carolina. Any action relating to the agreement shall only be instituted and prosecuted in courts in Brunswick County, North Carolina. Lessee/Tenant specifically consents to such jurisdiction and to extraterritorial service of process.
Departure Cleaning is included with your rental; however, the Guest is responsible for the following items prior to departure:
Please remove sheets, pillowcases and blankets from the beds and place them in the duffel bags provided and then place by the front door for pick-up.
Remove all food and trash from the rental home. Trash left in the home will result in a fee of $85 due by the Guest of Record and charged to the credit card used for payment.
The outside trash bins should be rolled out to the curb the night before the scheduled pick-up day (based on the Town of Holden Beach's trash pick-up schedule). Trash bins that are not rolled out for pick-up will result in a fee of $300 due by the Guest of Record and charged to the credit card used for payment.
- Memorial Day to Labor Day (summer season) trash pick-up is every Tuesday and Saturday
- Labor Day to Memorial Day (off-season) weekly trash pick-up is on Tuesday
Wash all dishes and replace them in the original cabinets
Return furniture to the original position to avoid a $125 fee
Lock all windows and doors and return any keys to Hobbs Realty
For keyless entry homes, enter Guest checkout code 123456 * (star) or ✔ (checkmark) - the bottom left button - on the keyless pad to notify the office you have checked out (See SECTION #2-CHECK-IN/CHECK-OUT POLICY)
a) All advance payments by Guest shall be deposited in an interest-bearing trust account at First Citizens Bank of 5043 Main Street, Shallotte, NC 28459, any interest accrued being the property of Hobbs Realty, Inc. b) Hobbs Realty Inc. may receive income from services to guests, including, but not limited to, insurances and optional services. c) There will be a $125.00 fee (+ taxes) for all NSF-returned checks, lost checks, or credit card declines. Returned checks will not be re-deposited, nor will declined credit cards be charged a second time. Payment is due within 2 days by certified funds to avoid cancellation of reservation without notification. d) Hobbs Realty charges a convenience fee of 2.5% for both credit and debit cards on each payment made. e) No personal checks will be accepted within 30 days of arrival. f) eChecks/ACH will not be accepted within 90 days of arrival. g) Only credit cards and debit cards are accepted for last-minute reservations and internet reservations. h) Tax rates are based on the date of occupancy. i) The Guest authorizes Agent to disburse up to 50% of the total rent to the owner (or as the owner directs) prior to Guest's occupancy of the premises, and the balance of the rent upon the start of the tenancy, as permitted under the Vacation Rental Act. Agent may also disburse any fees owed third parties for goods or services for the benefit of the Guest, including, but not limited to, any fees set forth herein payable to Agent. j) All information herein, although deemed accurate, is subject to correction and/or change.
Back to Top a) If a hot tub or pool is provided at the rental property, it will be prepared and tested for proper and safe chemical levels by a Certified Pool and Spa Operator, prior to or on the day of occupancy. b) Under no circumstances are unsupervised minors under the age of 18 or pets allowed in pools or hot tubs. Violation of this provision shall be grounds for expedited eviction. c) A limited number of pools have heat available for an additional fee of $500 (+ taxes)
Our staff does not monitor construction on the island. Please know that we do not refund or relocate guests based on nearby construction activity. The Town of Holden Beach does have a noise ordinance between 11PM and 7AM.
Guest agrees to indemnify and hold harmless Agent and owner from and against any liability for personal injury or property damage sustained by any person (including Guest's guests) as a result of any cause, unless caused by the negligent or willful act of Agent or the owner, or failure of Agent or owner to comply with the Rental Act. Guest agrees that Agent, the owner, or their respective representatives and/or vendors may enter the premises during reasonable hours to inspect the premises, to make such repairs, alterations, or improvements hereto as Agent or owner may deem appropriate, or to show the premises to prospective buyers or guests. Guest shall not assign this Agreement or sublet premises in whole or part without written permission of Agent.
No hook-up or use of any camper, bus, van, motorhome or tent in conjunction with any rental property is allowed. Motorhomes parked on the property must be pre-approved by Hobbs Realty and will be permitted as space allows in accordance with the parking regulations of Holden Beach. Violation of this provision shall be grounds for expedited eviction.
A maximum occupancy is provided for each rental property. Overcrowding is not permitted. Violation of this provision shall be grounds for expedited eviction. Hobbs Realty does not discriminate based on race, religion, ethnic background or national origin, sex, age, or mental or physical disability. Hobbs Realty will not rent property to anyone under the age of 24, nor will Hobbs Realty permit anyone under the age of 24 to take possession of any rental premises without the physical presence of a responsible party who is at least 24 years of age. Hobbs Realty will rent to non-family groups (persons who are not related by blood or marriage) only if the group obtains approval from Hobbs Realty prior to taking possession and adequate adult supervision is always maintained. No house parties are permitted at any time. Hobbs Realty reserves the right to immediately terminate the rental, without a refund, if any renter or occupant violates any of these criteria.
Monday - Saturday: 9:00 a.m. - 5:00 p.m.
Sunday: Closed
Extended Saturday Hours: June, July & August
Welcome to Holden Beach! Hobbs Realty is located at 114 Ocean Boulevard West. When you come over the Holden Beach bridge, turn left, and we are the second building on the left. You'll see our office as you come over the bridge.
On behalf of the entire Hobbs Realty Team, we want to reassure you that your safety and the safety of our team continue to be our main priority. Read about what we're doing for your safety during COVID-19. Safe Vacations with Hobbs Realty. 
a) If your vacation home becomes unavailable for any reason, Hobbs Realty reserves the right to transfer you to another vacation home or to refund your money, less non-refundable insurance payments. We also reserve the right to refund deposits, refuse rental or terminate occupancy if, in our opinion, the occupancy may be detrimental to the property. No refunds will be given if occupancy is terminated as a result of a violation of our rental regulations, or if the reservation was obtained under false pretenses. Hobbs Realty may terminate this Agreement upon the breach of any of the terms hereof by Guest. b) Guest acknowledges that the Owner of Rental Property may be a licensed real estate agent.
a) If the owner voluntarily transfers the premises, the tenant has the right to enforce this Agreement against the buyer if the guest's occupancy is to end 180 days or less after the buyer's interest is recorded. If the guest's occupancy is to end more than 180 days after recordation, the guest has no right to enforce the terms of this Agreement unless the buyer agrees in writing. If the buyer does not honor this Agreement, the tenant is entitled to a refund of all advance rent paid and any fees owed to third parties not already lawfully disbursed. Within 10 days after the sale of the premises, the buyer or buyer's agent is required to 1) Notify the tenant in writing of the sale of the premises, provide the buyer's name and address and date the buyer's interest was recorded. 2) Advise Guest if they have a right to occupy the premises subject to the terms of this Agreement or receive a refund of any payments made by Guest. b) Upon termination of the owner's interest in the premises, voluntary or involuntary, Hobbs Realty will transfer all advance rent paid by Guest and all other fees not lawfully disbursed to the property owner's successor-in-interest within 30 days. However, if the vacation rental is to end more than 180 days after recording and the buyer will not honor the vacation rental agreement, all advance rent paid by the Guest, and any fees not lawfully disbursed, will be refunded to the guest within 30 days. c) If the owner's interest in the premises is involuntarily transferred prior to the guest's occupancy, the owner shall refund to the guest any payments made within 60 days after the transfer.
Back to Top Although travel insurance is optional, Hobbs Realty strongly urges you to purchase this critical coverage, remembering that this product protects everyone traveling with you. Full coverage travel insurance is available at the time of your initial reservation and must be paid with the first half payment or within 10 days of your initial booking date. You may purchase travel insurance with limited coverage prior to your arrival (please contact Generali Global Assistance for exact coverage details) Securing this beneficial insurance coverage is the only way to safeguard your valuable vacation time and your financial investment as Hobbs Realty does not issue refunds or offer stay-date transfers for any reason, including hurricanes, mandatory evacuations or other natural disasters.
Hobbs Realty rental homes are individually owned and, therefore, reflect the tastes of each individual owner. Properties are leased without regard to race, color, religion, gender, national origin, disability, family status, sexual orientation, or gender identity. Hobbs Realty reserves the right to transfer reservations as deemed necessary and will make every effort to provide comparable accommodations. Although every precaution has been taken, our website, marketing and/or documents may contain errors. Photos of cottages may be different than the actual appearance. No misrepresentation is intended and we reserve the right to make necessary corrections or changes.