1 Aug 2022
Fall on Holden Beach is such an amazing time of year. Okay, so maybe we say that about every season … but fall truly is a magical time on our island.
As kids return to school and families settle into regular weekly routines, traffic and the overall daily pace slows down as our busy peak season is behind us. It's a fantastic time to plan a beach getaway and enjoy less crowded beaches, restaurants, and shops while still enjoying warm sunny days and ocean breezes. It's also a great bonus season to enjoy special occasions like honeymoons, babymoons, and love moons!
Here are a few of our favorite things to do on Holden Beach in the fall to get your vacation planning started:
ENJOYING THE BEACH

 
As the North Carolina heat dissipates a bit with the start of this beautiful cooler season, enjoying quiet days on the beach is one of our favorite autumn activities. You may want to pack some pants and long sleeves for brisker mornings and evenings, but we often see people still swimming in the ocean late into October.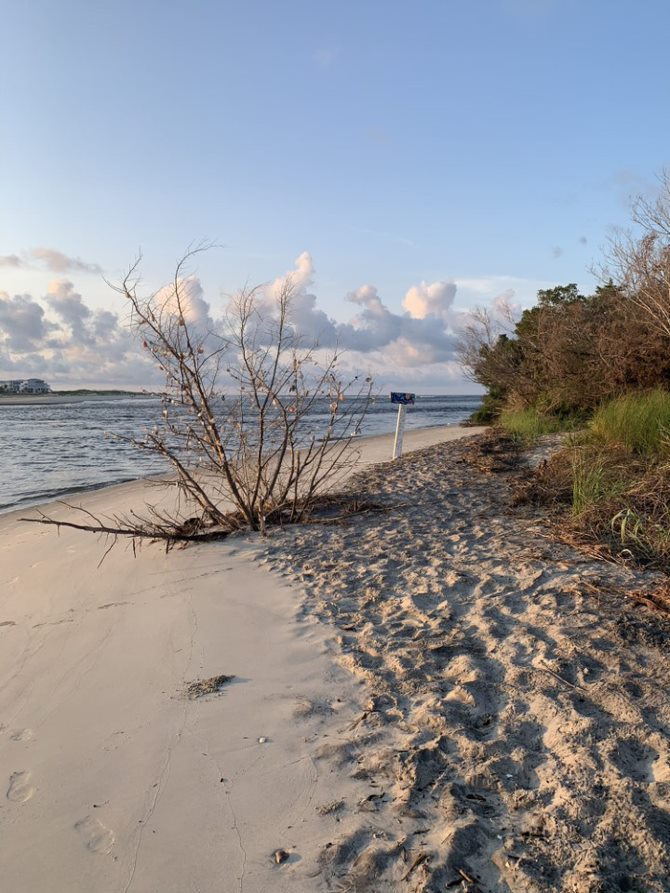 If you have always wanted to visit the Holden Beach memory mailboxes, this is a great time of year for that adventure. Though one mailbox is conveniently located on Sailfish Drive, the other two are on the East and West Ends of the island. Plan extra time to walk the distance, especially the West End landmark which is a bit of a hike - a perfect activity for a cooler fall day!
Our island uniquely faces south, so sunrises and sunsets are plentiful year-round. We think our autumn skies boasts some of the most beautiful sunsets of the year, so have your camera ready! 
Fall is also a great time to enjoy some beachcombing in Holden Beach. Fewer people are on the beach to compete for the treasures, and the storm season is more likely to deliver some beautiful finds. Don't forget to ensure there aren't any live creatures inside the shells before you put them in your bag!
RELAXING
In keeping with the slower pace of the fall season, we highly recommend simply relaxing in your Hobbs Realty vacation rental. Claim an Adirondack or rocking chair on one of the sunny outdoor decks, grab your favorite book and a cold or warm drink - and settle in for a few hours! 
We also have a selection of Holden Beach vacation rentals with private heated pools and hot tubs that are still availble.
When it comes to food, this vibrant shoulder season is one of the most plentiful times of the year for local seafood. Take advantage of the luxury kitchen and the grill at your vacation rental to enjoy some scrupmtios dinners with your family. You can experience a good old-fashioned oyster roast, with local oysters and other seafood available at our convenient Holden Beach seafood markets. Some of our local farm stands may still be open for the season, featuring local produce and other goodies, so don't forget to check them out, too!
After your family feast, everyone can retreat for an evening beach walk, relaxing deck time, or a fun card or board game in the family room.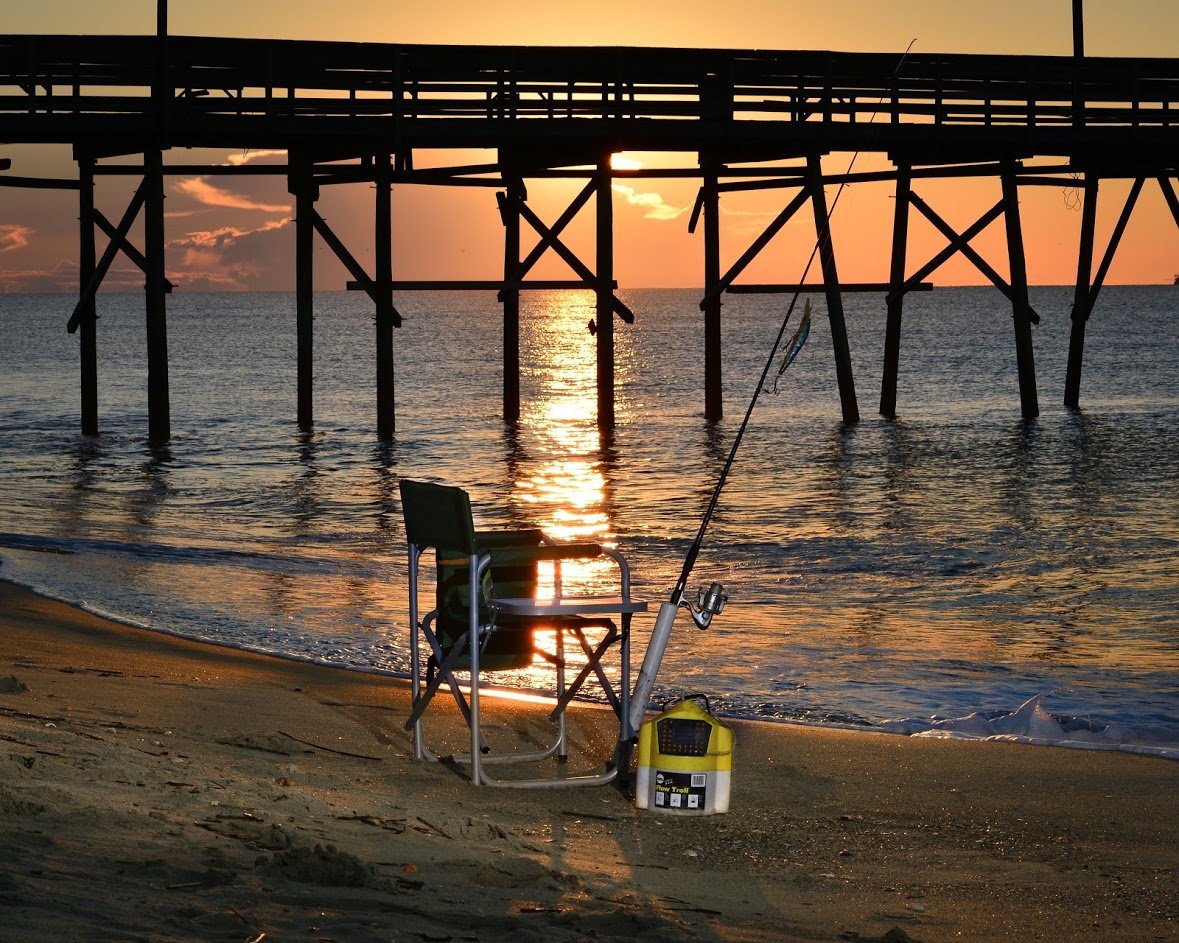 FISHING
Due to cooling water temperatures, fall is a fabulous time of year to catch a variety of local fish. You can fish while boating in the Intracoastal Waterway, take a trip with a local fishing charter, or try your luck from the Holden Beach Pier or trout fishing from the beach. (NOTE AS OF SPRING 2022: The Town purchased the pier properties at 441 Ocean Boulevard West. The pier and adjacent buildings are closed until further notice. The parking lot and beach access on the east side of the pier will remain open and are free for public use at this time.)
Stop by the Rod & Reel Shop to get your North Carolina Coastal Recreational Fishing License (CRFL) and any other supplies you need. You can easily find them on the Holden Beach Casueway on the right as you head towards the bridge to get on the island.

GOLFING
Golfing is a big deal around here and enjoyed by locals and visitors of all ages, especially this time of year. We have some great miniature golf courses for fun, a driving range, and award-winning golf courses near Holden Beach and throughout Brunswick County for those competitive spirits.

Fantasy Isle Mini Golf and Treasure Island Mini Golf are located on the mainland side of the Holden Beach Bridge on the Causeway and provide memorable family fun!
If you want to spend some time practicing your swing without going for a full round or two, you'll enjoy a session at the Holden Beach Driving Range in Supply.
The closest golf courses to Holden Beach are Lockwood Folly Country Club in Supply and Carolina National Golf Club at Winding River in Bolivia.
We are also an easy hour's drive north of Myrtle Beach, South Carolina, which is home to even more driving ranges, miniature golf, golf courses, and country clubs enjoyed by visitors with additional Brunswick County golf course options available en route all the way down Highway 17.
SIGHTSEEING
If the weather turns out to be a bit cooler during your fall beach getaway, or you simply want to enjoy a day of sightseeing and indoor activities, we've got you covered!
There are a few aquariums and museums in our area that will help you and your family learn about the sea life, wildlife, and flora and fauna of Coastal North Carolina. The closest aquarium is the North Carolina Aquarium at Fort Fisher located in Kure Beach. For an additional adventure, you can hop on the passenger ferry from Southport to Fort Fisher. When you arrive, it's just a short walk to the aquarium. You may also enjoy a trip to the Museum of Coastal Carolina in Ocean Isle Beach, or Ripley's Aquarium down in Myrtle Beach.
A trip to Oak Island and Bald Head Island to check out the two Brunswick County lighthouses is also a favorite for many to spend a day!  On Oak Island, you can get an up-close view of the Oak Island Lighthouse while also seeing Old Baldy in the distance. For a closer view of the Bald Head Island Lighthouse, you can take the passenger ferry from Southport to Bald Head Island (golf carts or bikes only are on the island). It's worth the trip if you have the time!
For even more indoor activities throughout Brunswick County, check out our list of rainy day activities or art galleries. You're sure to find something (or many things) for everyone in your family to enjoy!
No matter what you decide to do while you enjoy your week in Holden Beach during this lovely fall season, we know you'll have a spectacular time. As always, our vacation specialists are standing by, ready to answer any questions and to help you find the perfect vacation rental for your fall getaway!
We hope to see you soon … at the beach!
**
Darcy Geho is a contributing author to this Hobbs Realty blog. She spent 11 years working in the vacation rental industry while she lived on and traveled the North Carolina coast. Like most of our visitors, when she isn't on Holden Beach, she looks forward to her next visit.