11 Aug 2023
Perhaps fishing is one of your favorite Holden Beach activities, or maybe it's something you've always wanted to try. Regardless if you're an avid fisherman or just looking for a new vacation adventure, there are a variety of fishing charter options waiting for you on Holden Beach.
Local charter boat captains provide a range of trips, from full-day deep-sea journeys spanning up to 60 miles offshore to nearshore excursions within 15 miles, and inshore trips exploring shallow island waters. Whatever you prefer, you'll discover the ideal adventure for you, friends, or family.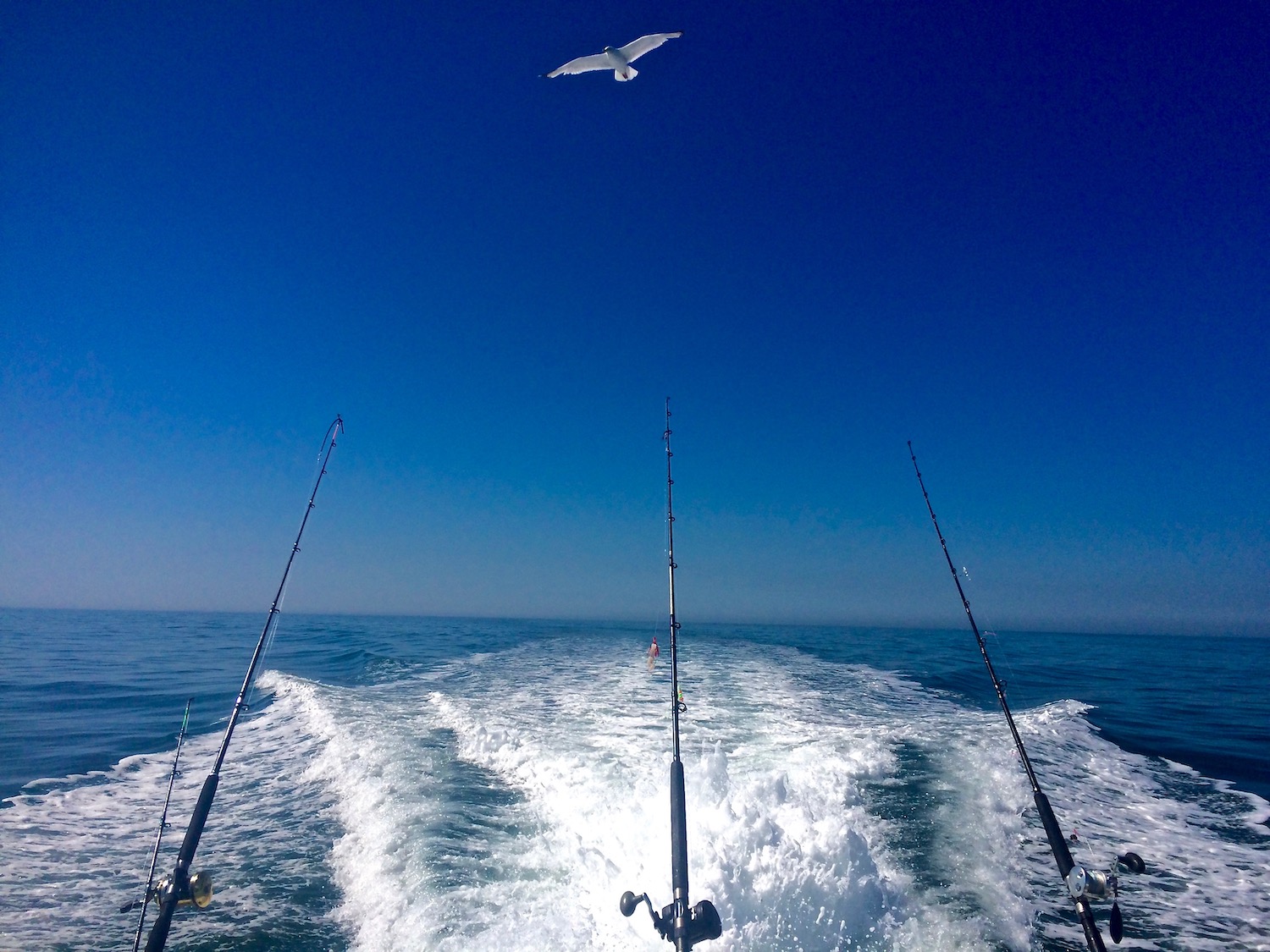 Offshore (Deep-Sea) Fishing Charters
The waters of the Gulf Stream are approximately 60 miles from Holden Beach, though the exact distance varies slightly throughout different times of the year. Though catches are never guaranteed, species fished on an offshore trip include mahi, sailfish, marlin, tuna, and wahoo. Because of the distance and time involved in taking a trip like this, serious sportsmen often enjoy these trips during their Holden Beach vacation.
If you want to go offshore but not the full 60 miles out, charter captains offer offshore options that will take you 10-25 miles offshore instead. Species often caught in these waters include king mackerel, mahi, cobia, sailfish, amberjack, black sea bass, and grouper.
Some of the more casual anglers who want to enjoy some time on the water and catch a few fish might prefer an inshore or nearshore fishing trip instead.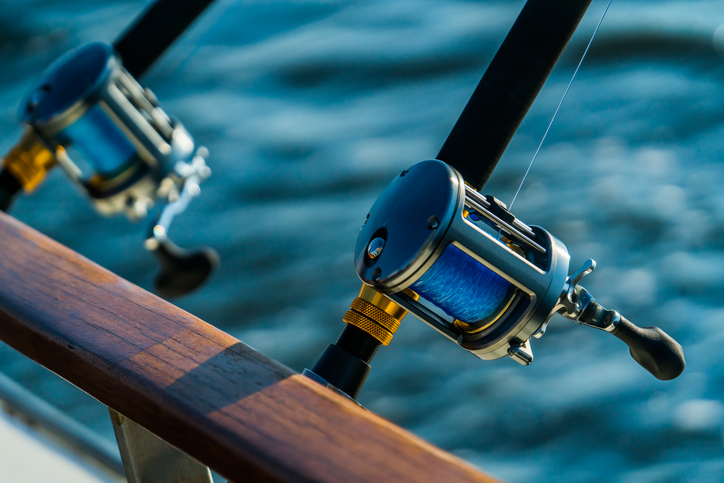 Nearshore Fishing Charters
There is a lot of salt water between the beaches of our island and the Gulf Stream, so those who don't want to travel 60 miles from shore will enjoy a nearshore fishing excursion. Depending on how long you want to be out on the water, you can choose how far from shore you want to go.
Species that may be caught on a nearshore fishing trip include king mackerel, cobia, and mahi. It's more common to find Spanish mackerel, ladyfish, spadefish, flounder, and bluefish on these trips, which usually range from 0-15 miles offshore.
Shark trips are also offered by some captains, which are usually half-day or so trips that travel up to 5 miles offshore in search of one of the ocean's most notorious predator fish.
Inshore Fishing Charters
Inshore trips are perfect for anglers who prefer staying closer to land in more shallow waters or have more time constraints. These trips are also great options for families with young children. Inshore trips focus on fishing in the Intracoastal Waterway and surrounding inlets and creeks. Fish often found on these adventures include trout, red drum, and flounder. Some charter captains may also offer flounder gigging trips.
Because you don't travel offshore for these trips, many boat captains will let you customize your day, depending on how long you want to be on the boat.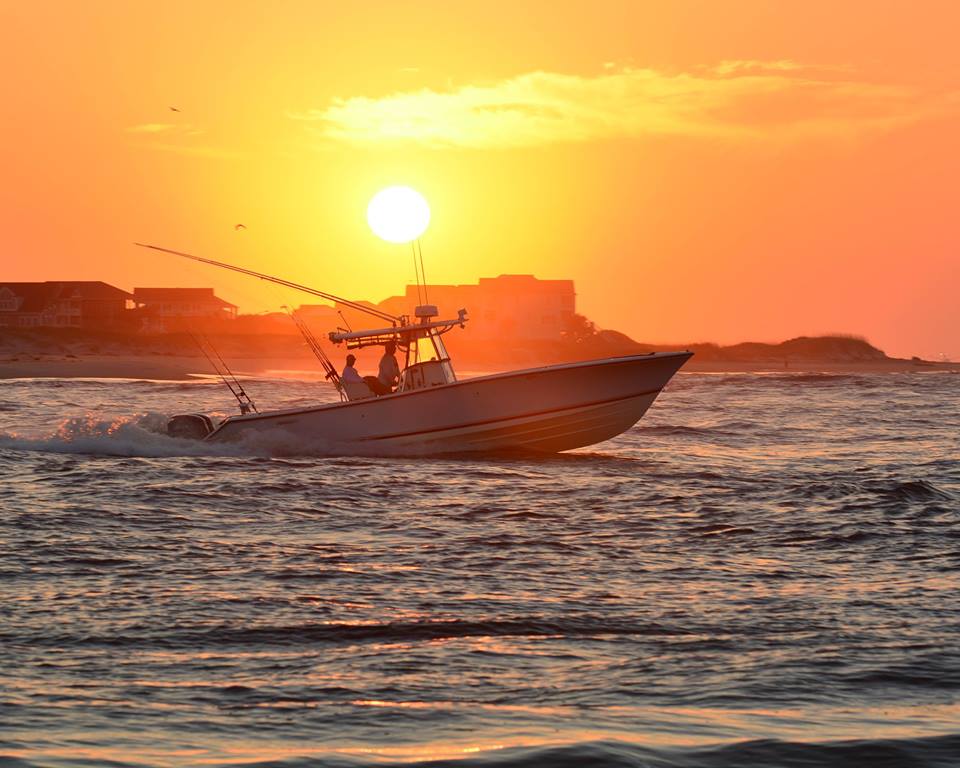 Scenic Cruises
Some captains also offer scenic cruises. These are often offered at sunset so you can enjoy the beautiful water and other views around Holden Beach with the painted colors of the sky as your backdrop.
Boat Rentals
If you are interested in a fishing trip but want to drive your own boat, boat rentals are also available from FantaSea Watercraft Rentals. They are located at 1307 Cedar Landing Road SW in Supply, and you can reach them by phone at (910) 842-8484. Holden Beach boat rentals are suited for inshore fishing.
What to Bring on Your Fishing Trip
Though the captain will monitor the weather and should keep you informed of what to expect before your trip, there are some things you'll want to be sure to pack for your day on the water.
It's a great idea to ask your captain what you should bring in addition to what we recommend packing:
Sunscreen
Bug repellent
Hat
Sunglasses
Camera with extra batteries or a portable charging bank
Motion sickness medication (just in case!)
A rain jacket
A sweatshirt, toboggan, and pants (in non-summer months)
Practical shoes with rubber soles
If not provided by your captain: water, snacks, lunch
Cash (for tips)
A cooler in your car for transporting your catch after the trip
Its commercial fishing license covers all passengers on a charter boat, so you don't need to purchase a fishing license before your trip. But, if you're renting a boat or fishing from the beach, make sure you purchase your Coastal Recreation Fishing License from the Rod & Reel Shop or another local fishing shop.
Holden Beach Fishing Charters
Here is a list of local Holden Beach fishing charters. Boat sizes and trip options may vary depending on the captain.
Tour H2O
Inshore & Scenic Trips
(910) 928-3001  ||  TourH2O.com
Bald Eagle Sportfishing
Inshore, Offshore & Deep Sea Trips
(910) 590-0780  ||  BaldEagleSportFishing.com
Bottom Line Charters
Inshore, Nearshore Offshore & GulfStream Trips
(336) 736-7387  ||  HoldenBeachCharters.com
Catch 22 Charters
Offshore, Nearshore, Shark & Inshore Trips
(910) 263-3097  ||  HoldenBeachFishing.com
Fin-Fisher Charter Services
Nearshore, Inshore & Flounder Gigging Trips
(910) 274-5458  ||  HoldenBeachInshoreCharters.com
Holden Beach Charters
Offshore, Nearshore & Inshore Trips
(336) 736-7387  ||  HoldenBeachCharters.com
Olli Raja Charters
Offshore, Nearshore & Inshore Trips
(910) 367-2998  ||  HoldenBeachFishingCharters.com
Rigged & Ready
Offshore, Nearshore & Inshore Trips
(910) 448-3474  ||  HoldenBeachCharter.com
Shallotte Outdoors
Offshore, Nearshore, Inshore & Scenic Trips
(910) 840-3235  ||  ShallotteOutdoors.com
Sorta Salty Charters & Waterway Cruises
Inshore, Nearshore, Offshore & Scenic Trips
(336) 906-1808  ||  SortaSalty.com
Trinity Fishing Charters
Offshore, Nearshore, Shark & Inshore Trips
(910) 664-7175  ||  TrinityFishingCharters.com
Triple 2 Charters
Offshore, Nearshore, Inshore & Scenic Trips
(704) 661-4924  

We Hope to See You Soon!
Though you can catch fish year-round in Holden Beach, the fall and winter seasons are especially great times to catch fish. Hobbs Realty guests who stay with us during the off-season (aka bonus season) also enjoy the slower pace and lower prices on Holden Beach oceanfront vacation rentals.
We'd love to help you plan your next vacation. You can call us anytime at 1-800-655-3367. We look forward to seeing you soon… at the beach!
.....
Darcy Geho is a contributing author to this Hobbs Realty blog. She spent 11 years working in the vacation rental industry while she lived on and traveled the North Carolina coast. Like most of our visitors, when Darcy isn't on Holden Beach, she looks forward to her next visit.