11 Nov 2022
Updated from Deember 10, 2020
For a full October week each year in the early morning and late afternoon, you'll likely find Hobbs Realty guest Marshall Geho wading in the waters of the East End inlet on Holden Beach. No longer a coastal North Carolina resident, he tries to coordinate the timing of his annual visit to the beach with the arrival of the trout.
Like many other saltwater species, trout can be found year-round in Holden Beach. But larger schools of trout are a bit easier for fishermen to find in early fall through late winter. Throughout the week, he does some surf fishing in front of his oceanfront vacation rental, too, but he has the most luck (and fun) out on the East End of the island.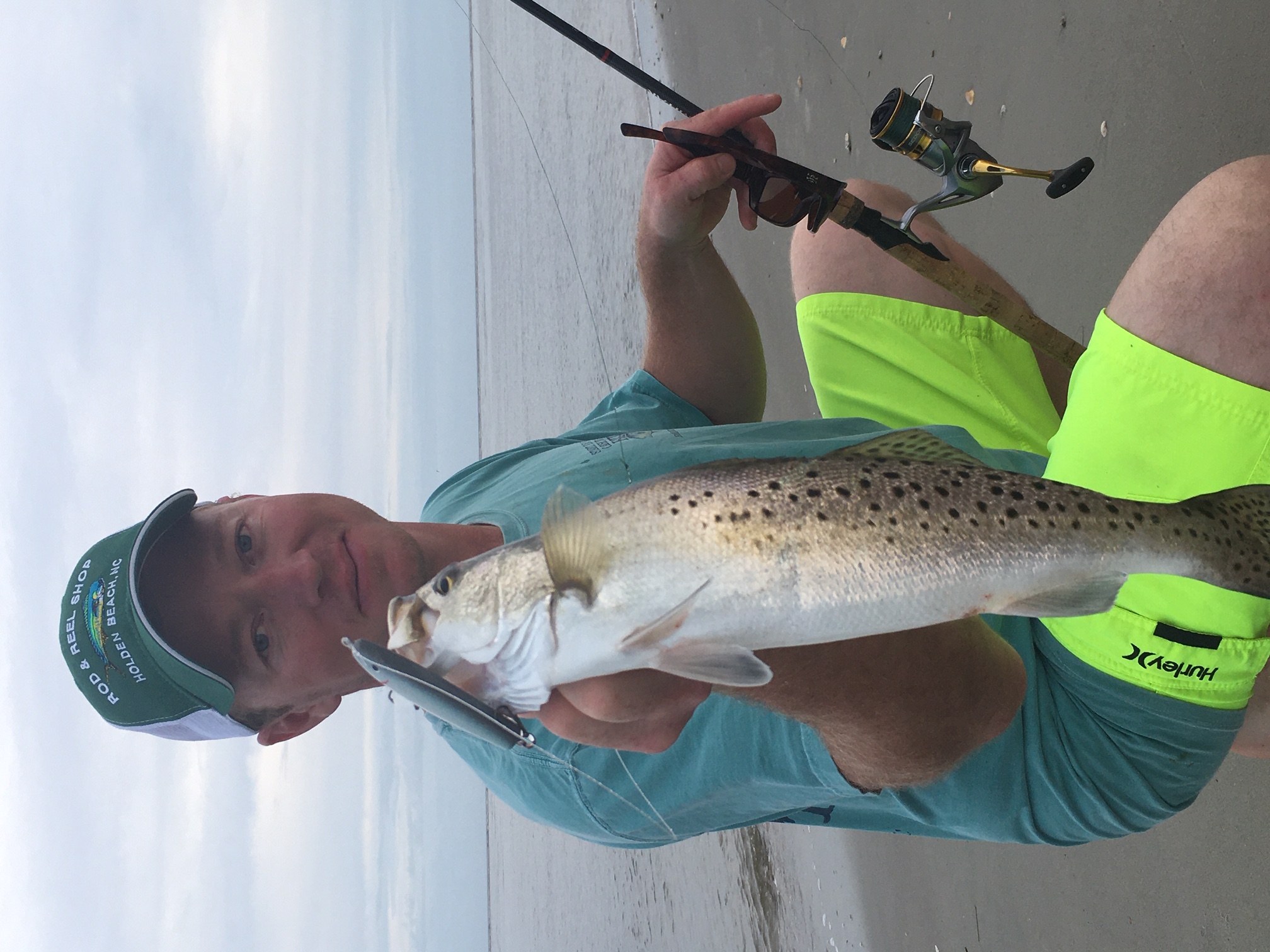 What Types of Trout Can You Find in Holden Beach?
Trout species commonly found in coastal areas of North Carolina include gray trout and speckled trout. These are both saltwater species and they can be found in a variety of places in and around Holden Beach.
Depending on conditions, trout can be found surf fishing off the beach, in the inlets between the ocean and the waterway, or in the Intracoastal Waterway. They can even tolerate brackish water and can be found in coastal rivers that lead to the ocean, like the Cape Fear River.
Gray trout, also called weakfish, grow up to 36 inches in length but are commonly caught at sizes between 12 and 16 inches. They are dark olive green on the top with a silver belly, with speckles of black among varying colors of purple, green, blue, lavender, gold, or copper on their back and sides.
Spotted seatrout, more commonly called speckled trout, grow as large as 40 inches long and 12 pounds, but average between 15 and 25 inches. They have silver bodies with black dots on the upper half, with varying colors of gray, blue, silver, yellow, and white.
One way to distinguish gray trout from speckled trout is the absence of spots on the tail and second dorsal fins of gray trout.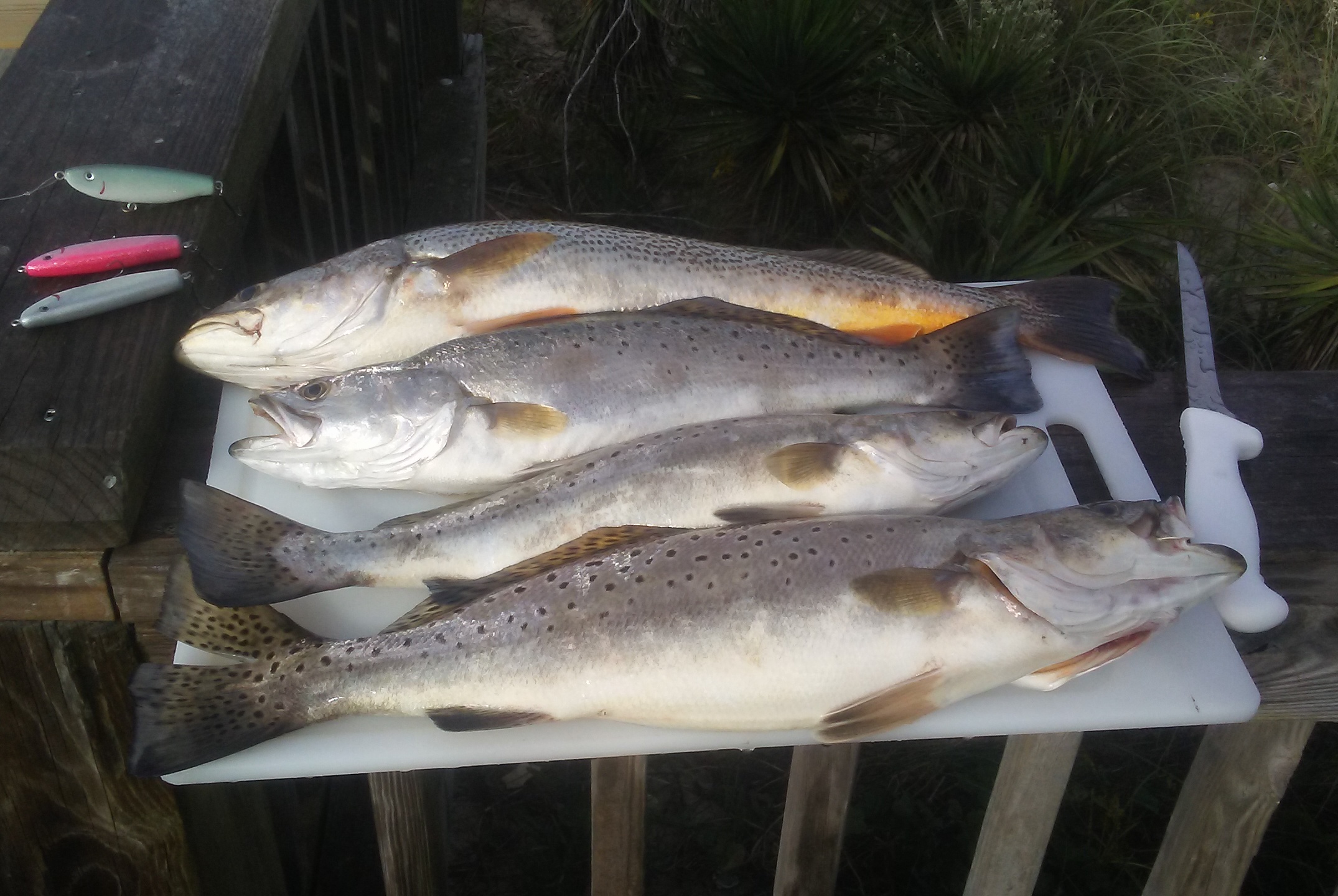 Top Tips for Catching Trout
Marshall started fishing when he was five years old and has fished throughout the country in freshwater and saltwater locations. A few years ago, he put his knowledge of fishing and carpentry together and started making handmade lures that the trout (and other fish) love to hit.
After his rods and reels were put away for the week, we asked Marshall if he would share some of his best tips for catching trout with us.
The first thing he told us was to arrive at your fishing spot before sunrise (perhaps the early bird really does catch the worm!) He usually has good luck during the first few hours of the morning, and then the last couple of hours of the late afternoon, usually dusk to sunset. You can also catch trout into the night. These fishing times also allow you to catch some amazing sunrise and sunset views!
While surf fishing from the beach, Marshall says he doesn't pay a lot of attention to the tides as there can be fish there at any point in time, depending on where you are on the island. Tides seem to be more important for fishing in the inlet, and Marshall finds that it works best to fish from mid-tide to tide change. He suggests focusing your efforts on areas of slack water just out of the current, stating that it's important to cast into slower areas of current that are adjacent to higher current.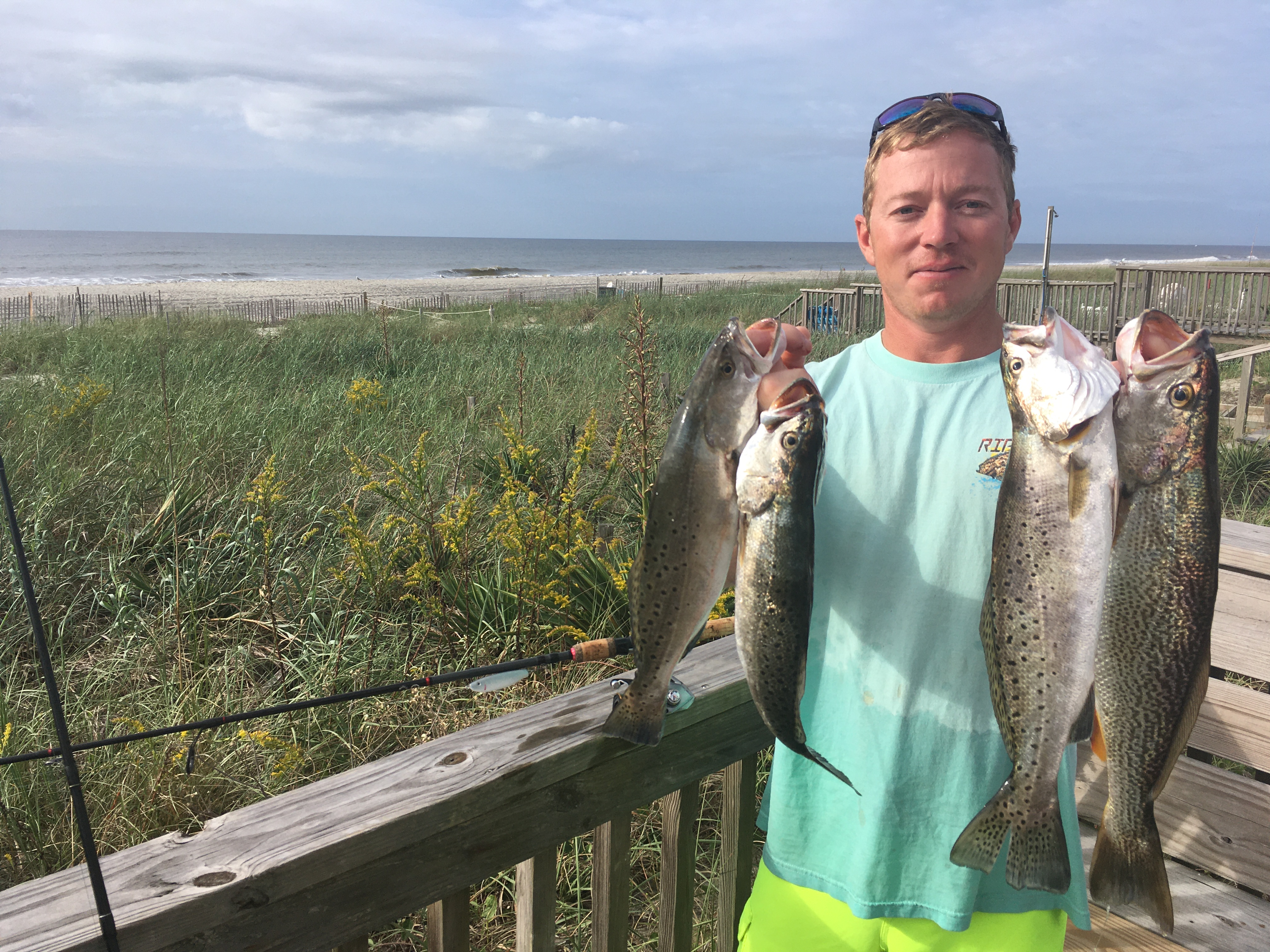 Because the channel in the East End inlet snakes around the inlet, different areas can produce slack water conditions at different tides. So exactly where you fish in the inlet depends on the tide and overall different conditions of different days.
As the fall migration occurs, the trout move out of the Atlantic Ocean and into the Intracoastal Waterway, using the inlets as main arteries. The inlets also provide areas of slack water adjacent to the current, which are hot spots for trout and multiple other saltwater fish species. These spots can sometimes be difficult to see if you don't know what you're looking for, and these subtle areas change during different tide phases.
Bonus Saltwater Fishing Tip: For fishing plugs on braided line, Marshall recommends using monofilament leader. Join the two lines together, eliminating the swivel. Otherwise, fish will eat the swivel and cut your line.
A Bit About Marshall's Minnows
Marshall's favorite top tips include the use of his handmade fishing lures. At any given moment when you see him on the beach, he will have a tackle box of various colors of them in his backpack.
Marshall said, "I am not as familiar with area waters as a local trout guide, but I have over 20 years of experience catching trout in saltwater areas of North Carolina and I've caught a lot of them. I've been making glide baits for a few years now and caught all of my trout during this year's vacation with my lures."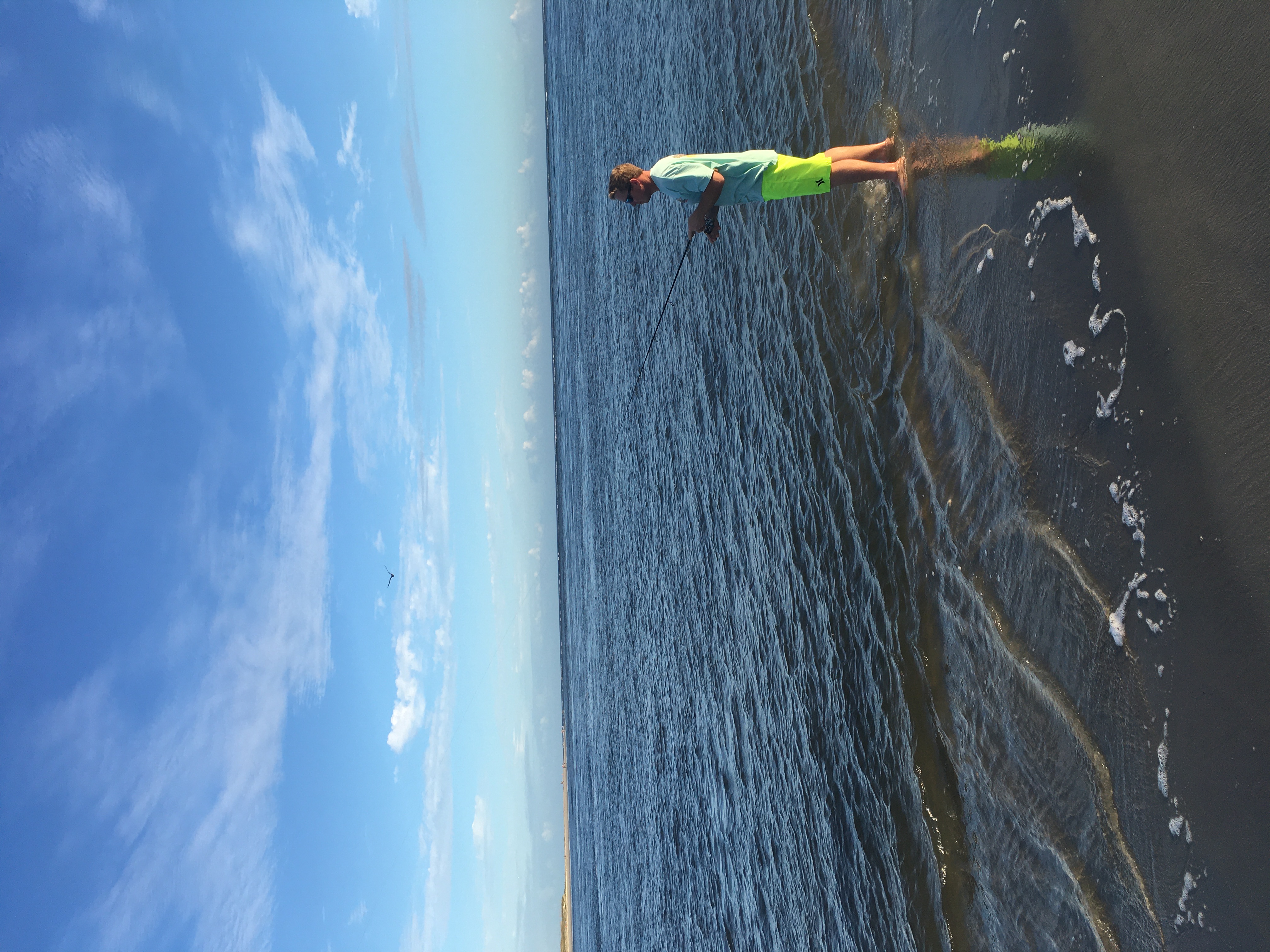 "Using my lures, you can make very long casts, allowing you the ability to reach parts of the channel that others may not," Marshall shared. His lures can be used as topwater lures or sub-surface baits when slowed down to slowly sink with the current. "Sometimes I will cast them out and walk down the bank with the current just twitching them – not reeling. I caught most of the fish this year right off the top of the water by fishing the lures fairly quickly."
One of his favorite colors to use while trout fishing in Holden Beach is the hot pink and white lure called "Trout Love." This year Marshall also caught several trout with the white "Ghost" lure and had luck with more natural colors like "Threadfin."
He most often used Trout Love and Ghost during low-light conditions and the more natural colors like Threadfin during mid-day and normal light conditions. Last year when he was on the beach, a fellow fisherman asked if he could buy the lure right off his rod. Marshall obliged because he always travels with extra lures!
You can see more information about Marshall's lures at MarshallsMinnows.com.
Marshall's Favorite Way to Cook Trout
Of course we asked Marshall about his favorite way to cook trout! He prefers to keep it simple by dredging it in a seafood breader and frying it in butter. He also likes to squeeze fresh lemon juice on it as it cooks and serve it with tartar sauce.
Marshall's annual vacation includes a trek to buy a few bags of the seafood breader you can find at one of our great local seafood markets. He uses some of it while he's here and takes the rest home to use for the walleye he catches throughout the rest of the year when he's not at the beach.
We Hope to See You Soon!
As you can see, fall and winter are not only a great time of year to take advantage of the off-season prices on vacation rentals, but to catch and eat some local trout, too! If there is anything Hobbs Realty can do to help you plan your vacation — fishing or not — call us anytime at 1-800-655-3367. We look forward to seeing you soon... at the beach!
***
Darcy Geho is a contributing author to this Hobbs Realty blog. She spent 11 years working in the vacation rental industry while she lived on and traveled the North Carolina coast. Like most of our visitors, when Darcy isn't on Holden Beach, she looks forward to her next visit.