23 Apr 2023
North Carolina is known for its beautiful lighthouses speckled along the coast. Perhaps the next time you come to stay with us in Holden Beach will be the perfect time to plan a fun lighthouse day trip! We're proud to say that two of the seven historical structures are located right here in Brunswick County - both just a quick 30-minute drive (plus a ferry) from Holden Beach!
North Carolina Lighthouses
North Carolina's coastline is adorned with iconic lighthouses that stand as historic sentinels and landmarks of maritime heritage. These majestic structures guide ships safely along the shore and captivate visitors with their unique architecture and picturesque settings. From the Outer Banks to the southern coastline, each lighthouse tells a tale of seafaring history and offers panoramic views that extend over the vast Atlantic.
It's a bucket list item for many NC visitors and residents to see each of our state's beautiful lighthouses:
· Currituck Beach Lighthouse in Corolla (on the northern Outer Banks)
· Bodie Island Lighthouse in Nags Head (on the Cape Hatteras National Seashore)
· Cape Hatteras Lighthouse in Buxton (further south along the Cape Hatteras National Seashore)
· Ocracoke Lighthouse on Ocracoke Island
· Cape Lookout Lighthouse across from Harkers Island (most southern lighthouse on the Outer Banks)
· Oak Island Lighthouse in the eastern section of Oak Island known as Caswell Beach
· Old Baldy Lighthouse on Bald Head Island
Today, we are going to focus on the two lighthouses that you can cross off that list during your next Holden Beach vacation, by taking a fun day trip to see the Oak Island Lighthouse and Old Baldy Lighthouse.
Oak Island Lighthouse 
The Oak Island Lighthouse is located in Caswell Beach on Oak Island. Though our Holden Beach shares the East End Inlet with the West End of Oak Island, it's about a 30-minute drive by car. The Oak Island Lighthouse was upgraded to rotating LED light technology in December 2020, making it the first installation of its
kind in the United States. The LED lights are brighter out at sea, and the installation was able to retain the signature flash pattern that features four one-second flashes followed by six blank seconds.
The Oak Island Lighthouse was built in 1958. There are 131 steps up to the top, though instead of a spiral staircase like what you would find in most older lighthouses, the steps consist of a series of ship's ladders
The Oak Island Lighthouse can usually be climbed for free year-round by appointment, though availability has been closed since March 2020 due to the pandemic. When tours are once again available, lighthouse climbs will be offered on a reservation basis. For more information, visit OakIslandLighthouse.org.
Old Baldy Lighthouse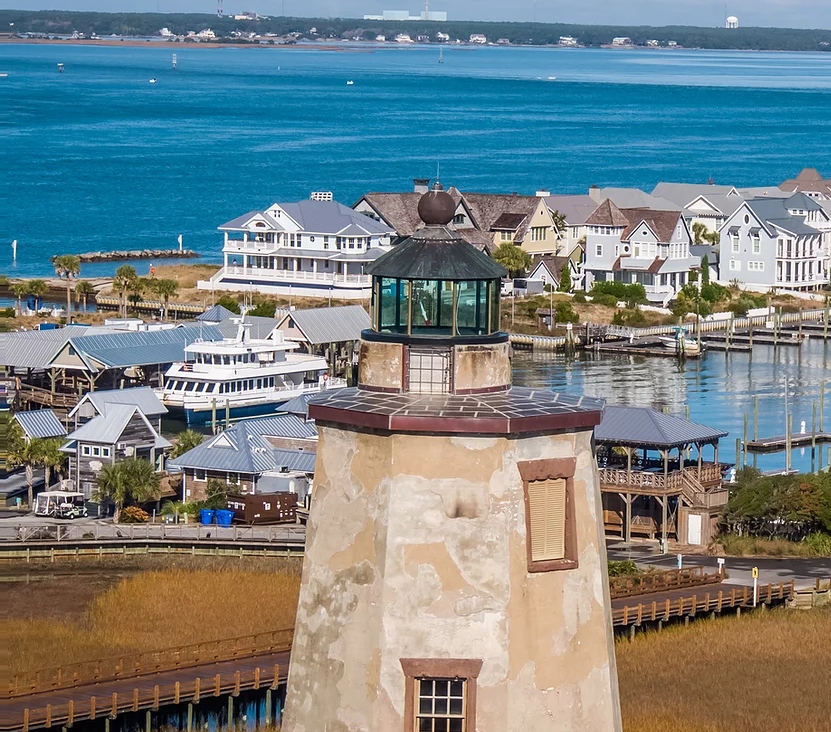 Old Baldy Lighthouse, also called the Bald Head Island Lighthouse, is visible from the Southport Waterfront and a bit more visible from Oak Island. For an even closer look at the lighthouse, Bald Head Island is only accessible by water or air. If you don't have a personal boat handy, you can get there by going to Southport and taking a passenger ferry ride to Bald Head Island (be sure it's the Bald Head Island Ferry and not the car and passenger ferry to Fort Fisher where the NC Aquarium is located).
Old Baldy Lighthouse was built over 200 years ago and is a short 108-step climb to the top. Tickets to visit the lighthouse and accompanying Smith Island Museum of History are $8 for adults, $5 for kids ages 3-12, and free for kids under age 3. What a view!
You can board the passenger ferry to Bald Head Island at Deep Point Marina in Southport. Ferries leave Southport every hour on the hour and depart from Bald Head Island on the half-hour. Round-trip tickets are $23 for adults, $12 for children ages 3-12, and free for kids under age 3. Passenger vehicles aren't allowed on Bald Head Island, though golf cart rentals are available once you arrive. For more information, visit OldBaldy.org.
We Hope to See You Soon!
As you can see, there are several options for viewing the Oak Island Lighthouse and the Bald Head Island Lighthouse. From a relaxing distance as you stroll along the Southport Waterfront works for many, while others want a front-seat climber's view. Whatever you prefer, we know you'll appreciate the beauty and history of our NC lighthouses!
Let us help you find the perfect Holden Beach vacation rental for your family. Call us anytime at (800) 655-3367.
We look forward to seeing you soon … at the beach!
**
Darcy Geho is a contributing author to this Hobbs Realty blog. She spent 11 years working in the vacation rental industry while she lived on and traveled the North Carolina coast. Like most of our visitors, when Darcy isn't on Holden Beach, she looks forward to her next visit. In her spare time, Darcy enjoys sharing her adventures on her blog (external link to http://www.PreservingMySanity.com).