1 Mar 2022
Spring is a wonderful time at Holden Beach!
Bunnies, Easter egg hunts, blooming dogwoods, new pastels, and meaningful church services come to mind for many when thinking about this season leading up to Easter. But another memorable tradition is adding Holden Beach as your backdrop when planning this year's Easter festivities.
Easter Sunday is April 17 this year – just the time when things will be in full bloom on your drive down and at the Holden Beach garden at the foot of the bridge to welcome you to the island! It's a fantastic time of the year for some quality time.

FUN IDEAS FOR A HOLDEN BEACH EASTER
Easter Egg Beach Hunt - There are plenty of places around the decks, walkways, and yards as well as in the sand to hide those colorful eggs! (Be sure to avoid the dunes and not to leave any eggs behind!)
Bike Rides – Take a family bike ride along Boulevard or Brunswick Avenue and other back and side roads. If you need to rent a bike, here are a few options.
Water Tour or Taxi – Whether you want a fun way to travel to your dinner reservation or want to treat the family to a sunset cruise, check out Tour H2O.
Relaxing & Reading – Every time of year is a great time to catch up on some good reads and to just chill by the pool, in your favorite beach chair with your toes in the sand, or with the best view in the house on the deck.
Easter Scavenger Hunt – Take your Easter Egg Hunt to the next level for the older "kids." Create treasure maps and clues and get the whole family involved!
Seafood Feast – You're free to continue your meal traditions at the beach (Food Lion is nearby!), but what if you swapped out the ham for a seafood boil, shrimp, or fresh fish with sides of locally grown veggies? We love having so many fresh seafood and produce options around here!
Church – If you want to keep the tradition of participating in Easter season church services, find out what the local churches have planned for this year.
Seashell Search – There's nothing better than a family leisurely stroll up and down the shoreline, searching for those treasures left behind as gifts from the sea. You can always turn that into a fun family competition or game. Pick up one of the seashell identification books from a local shop (if there's not already one in your rental home) and spread out your rinsed-off seashells for an ID session.
Kindred Spirit Mailboxes – You've probably heard about the mysterious island mailboxes in Brunswick County. Did you know Holden Beach has three? What a fun day – or two – as a family to search and find each and leave your own handwritten notes in the boxes?
Kite Flying - There's something so nostalgic about flying colorful kites on the beach in these wide-open skies and spaces! Bring your own or pick up one in one of our local shops.
Wildlife Viewing - You may not see many bunnies on the beach, but there's plenty of beautiful wildlife to look for - and photograph or simply enjoy.
Easter with the Wild Horses -The Wild Horse Preserve at Grace Wynds hosts Eggs & Equines, their annual Easter fundraiser each spring. It includes an Easter egg hunt with horses, hayrides, pony petting, hand-led pony rides, and a meal!
And you can always book a vacation rental with a heated pool and/or hot tub to make a great vacation perfect!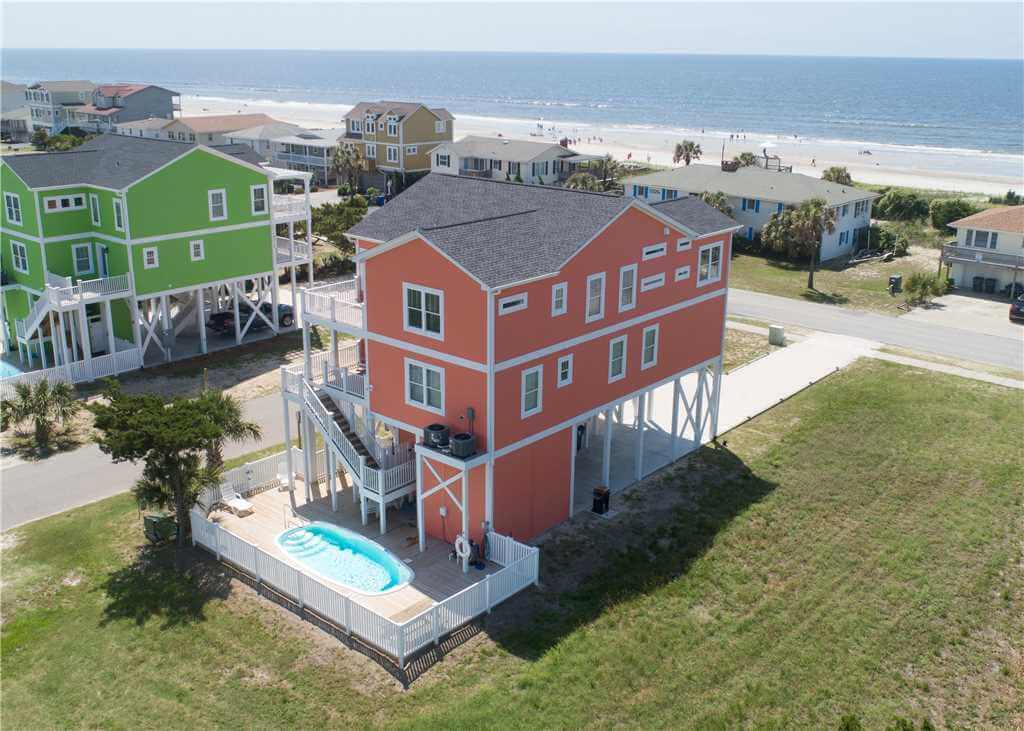 HOPE TO SEE YOU SOON!
The list is endless, but hopefully, this will get you started. Aren't you excited about planning your spring getaway to our lovely, uncrowded Holden Beach! We're just a phone call away if you need ideas or assistance (800-655-3367).
We look forward to seeing you soon... at the beach
• • •
HOBBS BONUS
Here are a couple of fun things for the kids to do while planning your vacation, in the car, or while enjoying your amazing Hobbs Realty vacation home!