1 Sep 2019
We are often asked, "Which restaurants in Holden Beach are family-friendly?" The quick and easy answer is, "All of them!" Our local Holden Beach restaurants love our visitors and understand that many vacationers travel with kids. 
We know that the largest part of your vacation planning is booking your vacation rental, but it's also helpful to figure out some of the other details before your arrival so you can dive into vacay mode! After checking with some restaurant owners and visitors, we've compiled this this list of kid-friendly restaurants you can enjoy during your next North Carolina beach vacation with Hobbs Realty!
Breakfast, Lunch & Dinner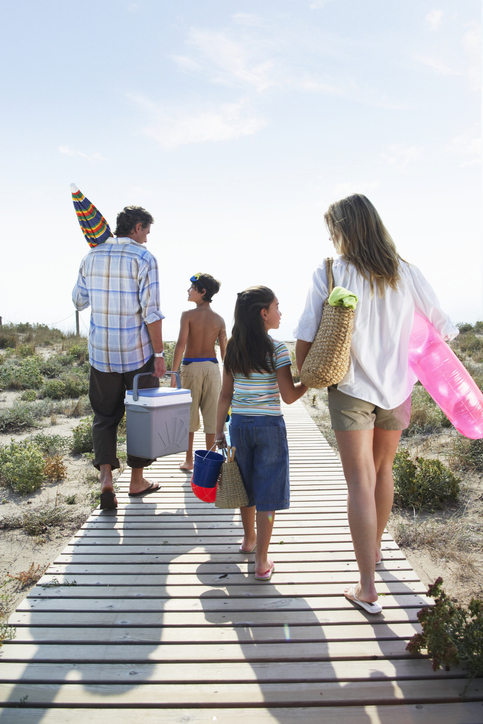 Archibald's Deli (2991 Holden Beach Road SW in Supply) is a great kid-friendly option, because you can either enjoy your sandwich, wrap, or salad in the sunny and cheerful eat-in area, enjoy the screened-in porch on the lower deck, or take your order to go and enjoy a fun family picnic on the beach. A fun option is carrying your deli take-out back to your Holden Beach vacation rental for dining on the deck or picnic on the beach. Archibald's offers breakfast and lunch, though the menu and hours vary in the off-season.
Betty's Waterfront Restaurant (1045 B-Var Road SW in Supply) has an expansive deck to walk around with the kids overlooking the marsh for an up-close look at the wildlife and critters in and around the ICW. They offer local seafood entrees, as well as a large variety of other delicious choices. Open for dinner only, Betty's also offers a kids' menu and unobstructed views of the Intracoastal Waterway and Holden Beach bridge while you dine. You can also enjoy live music in the bar area or from your table.
Castaways Raw Bar & Grill (112 Ocean Boulevard West in Holden Beach) caters to families and has live entertainment, a sandy area with cornhole, outdoor dining from the top balcony for an even more splendid ocean view, and a kids' menu. Enjoy oysters on the half shell, crab dip, seafood mac-n-cheese, or a yummy wrap or sandwich option. Even though the menu includes a list of coastal specialty drinks, Castaways works hard to maintain a family-friendly atmosphere for their patrons. The island hangout is open daily for lunch and dinner.
The Cove Restaurant (2633 Holden Beach Road in Supply) is a family-owned farm-to-table restaurant, featuring ice cream from their shop next store, Holden Scoop, which the kids love! They also have a dog-friendly area with a special ice cream for your fur-kid. Open daily for dinner, The Cove has a kids' menu and high chairs available.
Dock House Seafood (103 South Shore Drive in Holden Beach) provides diners amazing views of the Intracoastal Waterway and the Holden Beach bridge, and a unique selection of menu items, including redneck eggrolls, seafood ceviche, plantains, and your choice of seafood. Open daily for lunch and dinner, Dock House offers a kids' menu and a zero tolerance policy for anything less than family-friendly. Your kids will also love the breezy outdoor dining options on the deck and playing cornhole in the sandpits before or after your family meal.
Main Street Grill (3408 Holden Beach Road SW on the Causeway) serves a variety of seafood and sandwich items in a casual atmosphere and offers a kids' menu. It's a favorite gathering place for breakfast and they're also open for dinner. Lunch is available on Saturday and Sunday, including their Sunday in the South menu 11 AM – 2 PM.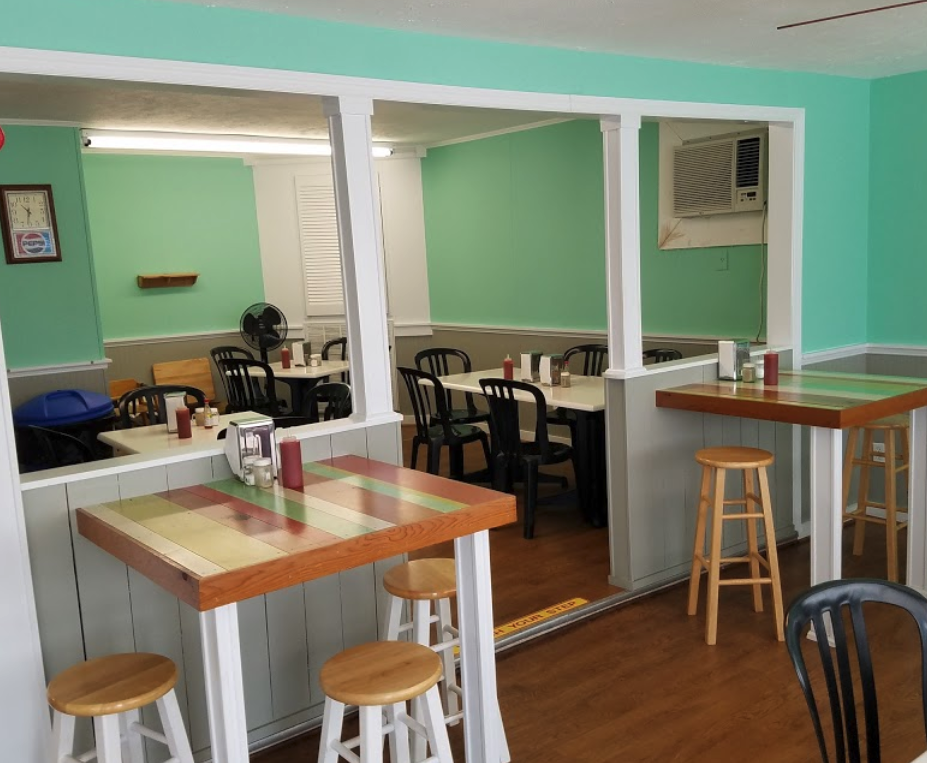 Mankins Causeway Café (3397 Holden Beach Road SW on the Causeway) is a casual, small-town café-style local favorite since 1989 (in its current location since '97), with hand-pressed burgers, hot dogs, and fries (Tip: Order slaw and chili on your burgers and fries!). They are open for lunch only  and usually slammed busy, so it's a good idea to call in your order ahead of time. You can order or pick up from the outside window or go inside to the counter to eat in if you're fortunate enough to grab a table, or take it to go for a fun, messy picnic. With a heart for children, for many years, Ms. Francis Mankin has partnered with local schools to provide Christmas for students in need, and she's hosted kids from Sharon UMC (on Holden Beach Road) as part of their King's Kids weekly after-school ministry. 
Mermaids Island Grill (102 Jordan Boulevard in Holden Beach) serves local seafood and a large variety of non-seafood selections, including some favorite Greek dishes. They proudly use a variety of local and scratch-made ingredients, and a kids' menu is available. Open for lunch and dinner, you'll enjoy a casual indoor or outdoor dining experience with a beach view or from the new high-rise deck with a fabulous view of the bridge, too.
Patronies Pizza (2625 Holden Beach Road SW in Supply) is a kids' favorite because they have fun décor and play bubblegum oldies music. Kids love pizza and Patronies is kid-tested and approved! Patronies is open for dinner only, and of course take-out is also an option.
Provision Company (1343 Cedar Landing Road SW in Supply) is one of the first places many people will suggest if you ask where to eat in Holden Beach for lunch or dinner (or ProCos as affectionally nicknamed by the locals). Provisions perches over the Intracoastal Waterway from the screened-in (when necessary) dining area with a great view of local shrimp boats and ICW traffic. In addition to cornhole downstairs, there's live music upstairs on the deck and a dock for your boat. Chicken tenders and fries are a popular choice off the kids' menu, and kids of all ages will get a kick out of the clever signs on the bathroom door and the license plates displayed from all over the country.
The Scoop (3425 Holden Beach Road SW on the Causeway) serves a variety of breakfast and lunch items, in addition to a selection of sweet ice cream treats and baked goods. 
The Seafood Barn (3219 Holden Beach Road SW in Supply) is not only a cool barn-like dinner venue with cool antiques, old pics, and beautiful flowers cascading out of rustic containers, it serves a variety of local seafood, steaks, chicken, pasta, its famous redneck eggrolls, and kids' menu options. "The Barn" also has a great event space upstairs for larger gatherings – just call for arrangements and reservations.
Silver Hill Grill (2049 Holden Beach Road SW in Supply) offers what some call the best friend shrimp around! Family owned for more than 40 years and located across from Sharon UMC in an area known as Silver Hill in the good ole' days, the grill operates out of a trailer with a screened-in porch, which offers a few picnic tables for quick dining. Or call ahead for take-outs to enjoy at your home-away-from-home on the island. Silver Hill Grill is open Thursday - Sunday for lunch and dinner.
Simply Barbecue (3240 Holden Beach Road SW off the Causeway behind BB&T) specializes in in-house smoked meats from a portable trailer. There are a couple of tables on site, but many enjoy their generous BBQ sandwiches from their car, or as an easy order-to-go to enjoy picnic-style along the Waterway, on the beach, or from the deck of their Holden Beach vacation rentals. Simply Barbecue is open Monday - Saturday for lunch and dinner between Memorial Day and Labor Day; and Wednesday - Saturday 11:00 AM - 5:30 PM during the off-season.
Surfers Café (1096 Sabbath Home Road SW at the end of the Causeway) serves fresh seafood, good messy burgers, and even fried okra in a family-friendly atmosphere. Its convenient location in the Food Lion shopping center will allow you to get a quick bite while you're stocking up on some supplies. Surfers Café is open Monday - Saturday for lunch and dinner.
Sweets & Treats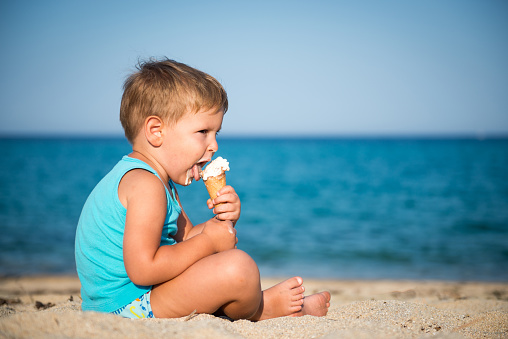 Beaches-N-Cream (3316 Holden Beach Road SW in Supply) serves homemade ice cream made on-site, with new and original flavors every day which are made in small batches with fresh local produce and milk from North Carolina free range cows. The shop is open daily from noon to 10:00 PM.
Saltwater Shanty (1027 Sabbath Home Road in Supply) offers homemade ice cream, sorbet, and gelato, (and waffle cones!), made with organic, natural ingredients and tons of fresh fruit, served in a beautiful garden setting. You will also enjoy browsing the on-site gift shop. Saltwater Shanty is open daily 11:00 AM - 9:30 PM.
Sandcastles Sweets and Treats (109 Jordan Boulevard in Holden Beach) offers a variety of sweet treats including candy, taffy, fudge, old-fashioned soda, and more!
Sunset Slush (111 Jordan Boulevard in Holden Beach) offers nearly 30 flavors of classic Italian ice. Enjoy cornhole on site and the best view of the Sunday evening outdoor concerts under the bridge Memorial Day - Labor Day weekends. You can conveniently order from the outside window when coming off the beach or step inside for a hit of A/C to order your Italian ice or ice cream and purchase a fun t-shirt at the counter.
Sweet Gecko Candy Bar & Creamery (3271B Holden Beach Road on the Causeway) serves ice cream, coffee, candy, old-fashioned soda, toys, and more! Located next to a popular Holden Beach souvenir shop, you can do some shopping before or after you enjoy your sweet treats!
See Ya' Soon! 
Hopefully, you're prepared for your next visit to Holden Beach with this handy list! Remember to also check out this blog about 10 Reasons Holden Beach is the Perfect Family-Friendly Destination. When you stop by some of these local eateries, tell them Hobbs Realty sent you — and check out our Hobbspitality discounts page to see what savings are offered  from our local business partners. If you need any help or ideas, give us a call at 1-800-655-3367 and our knowledgeable vacation specialists will be happy to help you. 
We look forward to seeing you soon!
Darcy Geho is a contributing author to this Hobbs Realty blog. She spent 11 years working in the vacation rental industry while she lived on and traveled the North Carolina coast. Like most of our visitors, when Darcy isn't at the beach she looks forward to her next visit. In her spare time, Darcy enjoys sharing her adventures on her blog.