8 Jul 2022
Are you planning a trip to Holden Beach that includes someone who needs wheelchair accessibility? There are a variety of wheelchair-friendly public beach accesses, waterway accesses, and parking located throughout our island.
Please note that accessibility can change due to weather and sand conditions, but continual efforts maintain accessibility for all to enjoy the beauty found throughout Holden Beach. Feel free to check out the interactive map for Holden Beach for designated public accesses and parking, but here are a few highlights.

Public Beach Wheelchair Access
There are three public beach access points located on Holden Beach with wheelchair accessibility.
The east end of McCray Street, with handicap parking

Quinton Street at 112 OBE, with handicap parking, ramp, gazebo, and shower

West Parking on Starfish Street is handicap parking adjacent to 567 Ocean Blvd.
Residents and guests enjoy placing shells from their beachcombing adventures at these locations.
Public Waterway Wheelchair Access
A popular destination for accessibility to the Intracoastal Waterway (ICW) is Sailfish Park on Sailfish Drive, about 4 miles west of the Hobbs Realty office. This lovely park is located along the ICW and offers beautiful views and, shade trees, picnic tables, and an accessible Memory Mailbox. People also enjoy placing shells here for those who are unable to fully access the beach.
Another wheelchair-accessible location is The Holden Beach Pavilion and Fishing Pier, including an access ramp and shower. This is located under the Holden Beach bridge at 131 Jordan Boulevard.
Parking Options
Paid parking was implemented on Holden Beach in 2022, but it is free to park in designated handicap spaces if your vehicle is displaying a handicap license plate and/or hangtag. However, please note that all regular parking spaces require a parking permit or be registered as a daily paid parker using the downloaded app on the parking signs.
Beach Wheelchair Rentals
For those wanting to access the beach in a wheelchair, you will want to use a beach wheelchair with wheels specifically designed to navigate our soft, white sand.
Beach Fun Rentals, one of our #Hobbspitality partners, has beach wheelchairs for rent. You will want to call ahead to reserve yours, as availability is limited.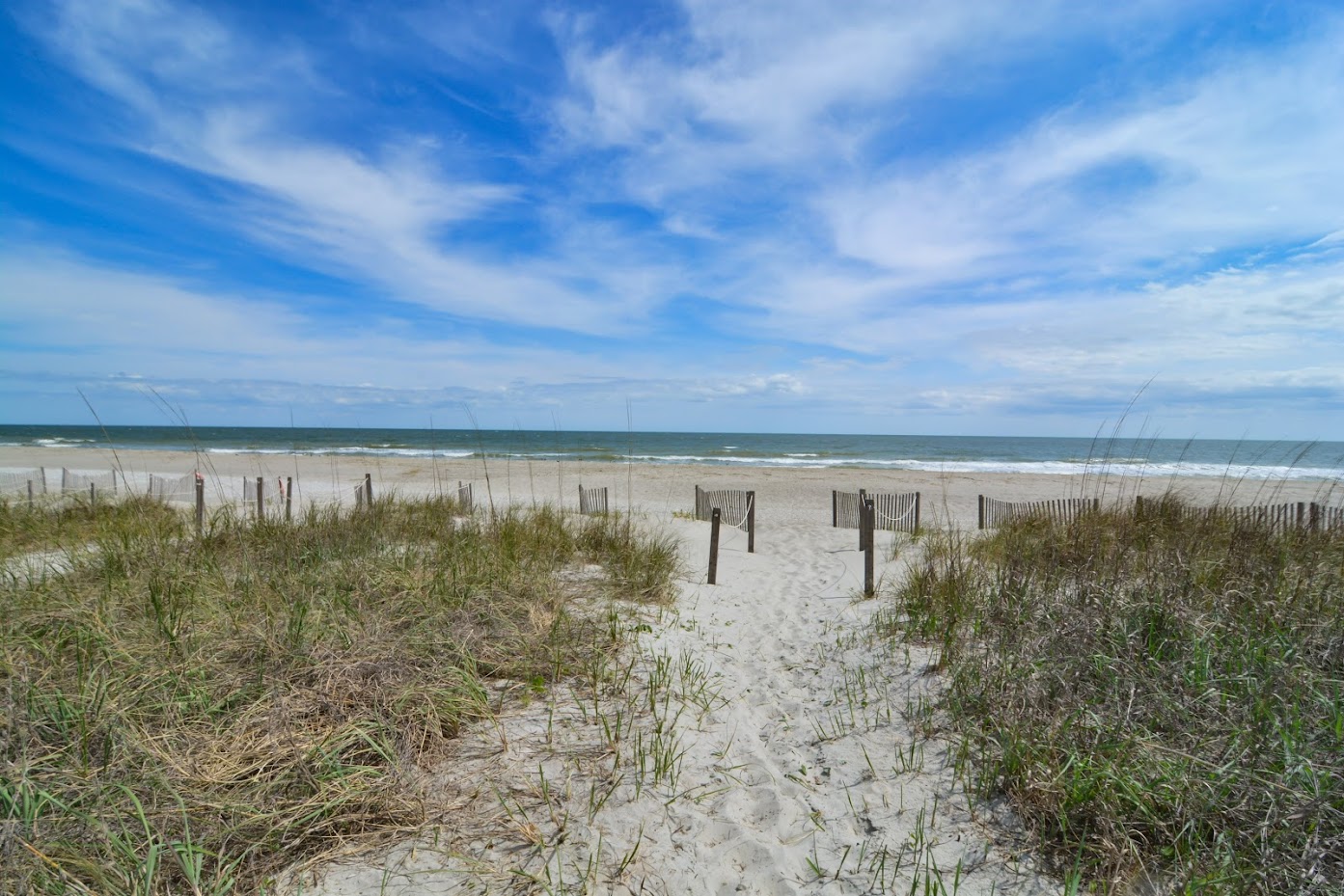 Wheelchair-Friendly Vacation Rentals
Holden Beach is fun for everyone! If you or a family member is traveling with special needs, Hobbs Realty has some wheelchair-friendly Holden Beach NC rentals with an elevator and/or ramps. Please give us a call at (844) 846-4885 so we can recommend the perfect Holden Beach rental for your specific needs.
Hope to see you soon – at the beach!
 **
Darcy Geho is a contributing author to this Hobbs Realty blog. She spent 11 years working in the vacation rental industry while she lived on and traveled the North Carolina coast. Like most of our visitors, when Darcy isn't on Holden Beach, she looks forward to her next visit.