9 Aug 2017
Standing along the pristine Holden Beach shoreline, the gentle laps of water regularly deposit treasures at our feet, as though an offering of sorts to those early risers or late afternoon strollers. It's an amazing daily gift to live and work here on beautiful Holden Beach.
40 Years of Living, Working, and Playing on Holden Beach
That describes the Hobbs family sentiments as they serve thousands of property owners and visitors coming to this gorgeous gem of the South Brunswick Islands…..like they're gifted daily with the opportunity to live, work, and play on Holden Beach, something they've done now for 40 years. The fourth generation of Hobbs is now discovering the same joys of this unspoiled barrier island just as their parents, grandparents and great grandparents have shared in the gift of Hobbs Realty and this place they call home. At its core, the Hobbs family feels called to help others discover their own Holden Beach treasures and to create lifelong memories and legacies of their own. And a glance back into the Hobbs history quickly reveals that, although the years have entailed many seasons and changes, some things remain the same.
Family-Built from the Ground Up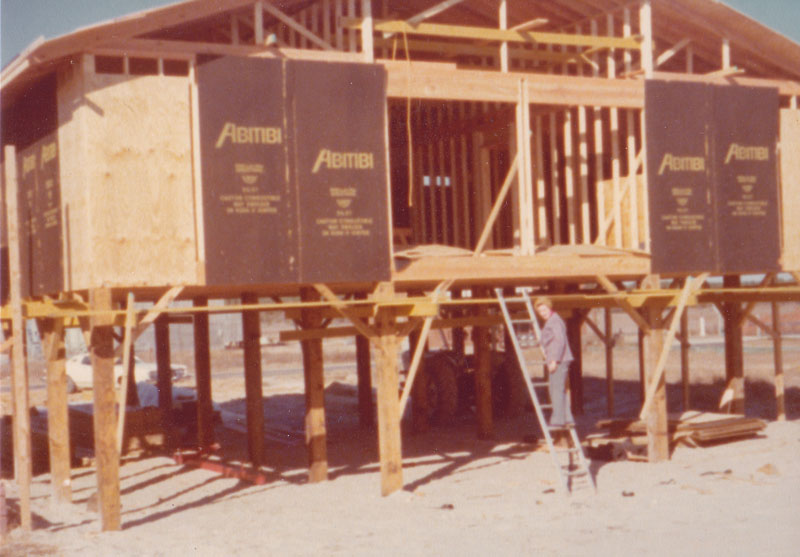 Forty years ago, Mr. James O. Hobbs, his wife, Betty, and their family began building and selling homes one home at a time on Holden Beach. The Hobbs family actually began building their first home on January 1,1977. Isn't that what most folks do for New Year's Day? Start building an oceanfront home in the dead of winter? But, Mr. Hobbs is a firm believer in "starting out as you should go" ….. and what a beginning it was! More than one home was sold when they were still in the midst of the project, when the quality of construction was apparent to all. In fact, many deals were made on an old-fashioned handshake, one with a $20 bill to cinch the deal. Two years later, in July of 1979, the family founded Hobbs Realty, and, organically and quickly put their extensive local knowledge and passion for all things Holden Beach to work to expand into property asset management.
Immediate and extended family members all pitched in and went to work. It wasn't unusual for Ms. Betty to answer a ringing landline to take a reservation in the wee hours of the morning, or for housekeeping to be run out of the back of a station wagon prior to the island office being established. Story after Hobbs story recounts the hard work, laughter and joys of building Hobbs Realty from the ground up. Around the year 2000, Rachele, the wife to the oldest Hobbs child, Jimmy, joined the business full time. The biggest changes she has not only witnessed, but spearheaded, include the expansion of technology,  and the departmentalization of teams within the office. Rachele very clearly places great emphasis on the same basic principles laid by those who came before her. "I'm grateful to be a part of a family business which continues to provide a respite for travelers to create valuable memories, harkening back to the very birth and reason for this business – extraordinary beach vacations."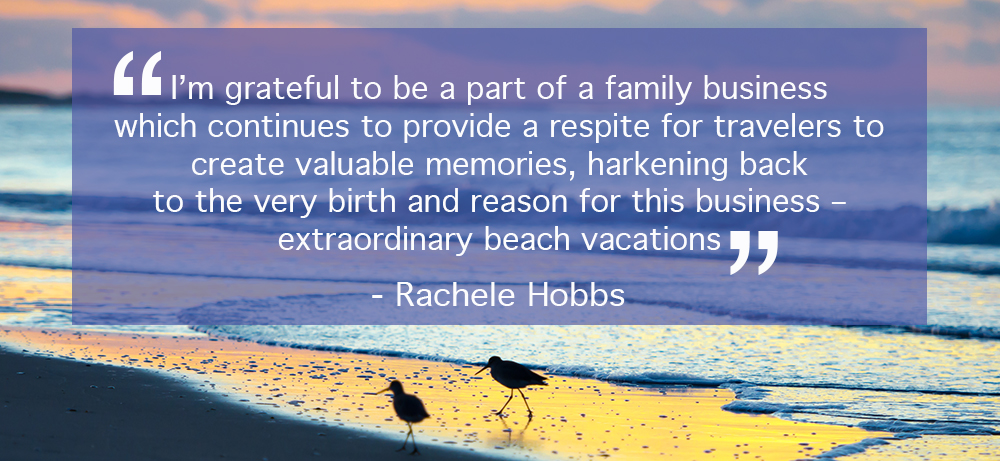 The Hobbs Realty Mission
Many changes and shifts in the tide have been experienced in 40 years' time that Hobbs Realty has been in operation, but the Hobbs mission has continued to build on the foundation of exceptional and unwavering customer service and staying true to what Holden Beach is. As expressed by Rachele, " We're blessed that our island hasn't transformed into high rise condos and four lane traffic, it is still 35 MPH and all are greeted with a glorious view of the Atlantic Ocean when coming over our iconic bridge."
Generations of Hobbs children and grandchildren have paid their dues, cleaning houses and blowing off driveways, assisting guests, answering phones, and a host of other Saturday responsibilities and seasonal tasks. Now the next generation is stepping into career roles. Tiffany Hobbs returned to the island after receiving her Masters in Business Administration and, upon earning her NC Real Estate credentials, is serving alongside her dad, Jimmy, in the realty sales sector, as well as working as the Property Manager, serving as the liaison between owners and guests.
Tiffany shares, "I'm so blessed and honored to be a part of this third-generation family legacy and business, but it's also rewarding to work with generations of families that love Holden Beach and Hobbs Realty. Much has evolved in the industry just in the nine years I've been here full-time, but one thing remains the same  -  our passion for this business and the opportunity to make a difference for people!"
Bethany Hobbs, an elementary school teacher by trade, joined the team full-time as the director of the housekeeping department, an integral ingredient to ensuring the entire guests service leg of the business runs as effectively and seamlessly as possible.
Jamie Hobbs continues to play an important role in all things related to the Hobbs' technology systems, website development/maintenance, and support.
A Commitment to the Past, Present, and Future
While continuing to strive to carefully balance the original Hobbs family charm and service with updated offerings for guests, meeting the needs of a new generation of homeowners and guests, and transcending industry standards, all generations still cling to the old-school Hobbs quality. Their greatest joy is still rooted in the desire to share all things Holden Beach with others discovering for the first time or once again the treasures lapping to shore…. the views…. the peace…. the respite of island living. They are committed to offering a clean, well-appointed home away from home, giving guests the best vacation possible for their money, to fairly resolve every issue, and helping make guests happy. It's simple for Hobbs Realty…. Treat others like you want to be treated. Keep your word. Establish authentic relationships with homeowners. And give families " the opportunity to experience happiness by the seashore."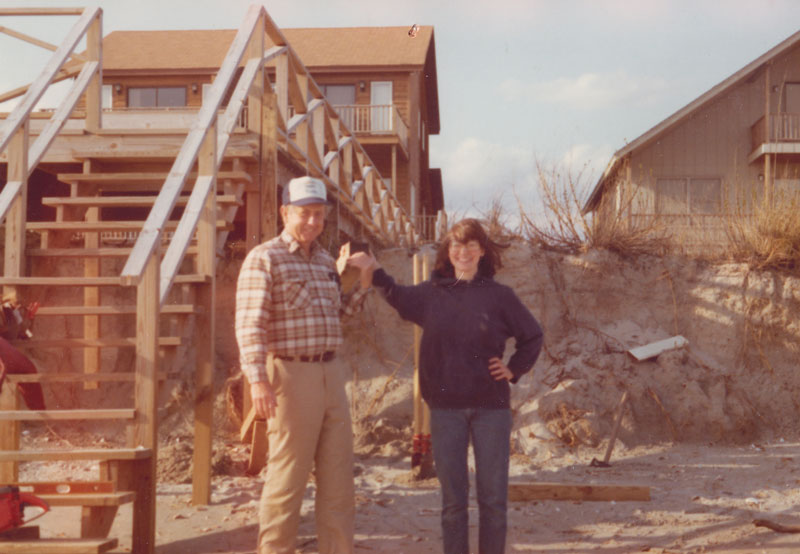 It's clear that Jimmy and Rachele Hobbs are committed to building a steadfast foundation of gratitude each day for every inquiry, reservation, guest, vendor, employee, and homeowner who entrusts them with their valuable time and investments, a fact that's never taken for granted any more than their stunning daily view is. "It's important that we show our gratitude to God for the blessings He's allowed in our lives," Jimmy reflects.
This has been a business built on faith, trust, and the desire to share the treasures of Holden Beach in Hobbs style – a professional, caring, personal touch and an unwavering commitment to excellence. Mr. Hobbs says he has a million memories, but also holds great hope for the next generations in their efforts to maintain or even surpass the Hobbs standard of customer service. When reflecting upon a lifetime of work, he emphasizes, "We can't out-give God. We've tried our best to look after people and go the extra smile to ensure their stay was as great as could be. I hope that matters." Surely one of the treasures along the Holden Beach shoreline is the Hobbs family and their 40 years of contributions to a quaint coastal community they call home.
Indeed, the vision has remained the same.