5 Mar 2020
Hobbs Realty is thrilled to participate in the first annual National Vacation Rental Week — the first of its kind in the vacation rental industry! It seems like a great time to highlight a few key benefits of professionally-managed vacation rentals for both guests and property owners — and we encourage you to take a closer look at Hobbs Realty to make a reservation for your next vacation in Holden Beach, North Carolina or as your professional manager to rent your vacation property.
Happy National Vacation Rental Week!
March 9-13, 2020
As a guest, vacation rentals offer a big bang for the buck in every aspect as a nice alternative to hotels. A vacation rental allows for additional space, privacy, convenience, and amenities, and is a better deal, especially when divided among your family or friends. Additionally, the industry continues to experience rapid growth every year, so there are more available properties, variety, and even destinations from which to choose. Vacation rentals make it possible to create a more personalized, memorable vacation experience when compared with traditional hotels.

A Hobbs Realty vacation rental will allow you:
the practical comfort of an actual residence (home-away-from-home vacay spot)
the ability to explore the neighborhood (and the island!)
the opportunity to discover aspects of your destination (Holden Beach) you might not encounter when staying at a hotel
to share the space more easily and affordably with a group of family or friends since vacation rentals typically offer multiple bedrooms, kitchens, laundry rooms, and hang-out space
easy access to local entertainment, often within walking or biking distance if you're in a location like Holden Beach
For property owners, renting your second property through a professional management company like Hobbs Realty can be an easy and reliable revenue source, a practical way to transform your purchase into an asset that offers a significant return on your investment. So many perks come with partnering with a reputable, well established management company like Hobbs.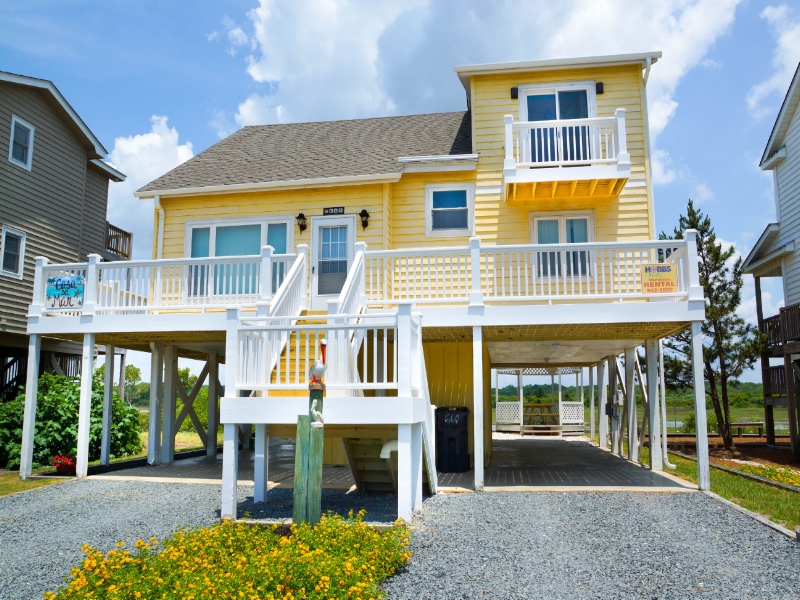 Some of the benefits of using professional management include:
the ability to use the property when you choose (with owner blocks on the scheduling calendar)
the opportunity to spend your own vacations in your beach home with family or friends
renting the home to guests the rest of the year for a steady stream of revenue which helps fund the investment
your peace of mind as your Hobbs personal property manager serves as your advocate, handling all the logistics, securing responsible guests, and maximizing your return through an expert understanding of the industry and in-depth knowledge of the local community
convenience and efficiency as the management company advertises the property, handles inquiries, collects deposits and balances, generate agreements, and coordinates follow-ups post-rental
… all so you can sit back and simply enjoy the experience!
Finding a vacation rental to book or a professional manager to represent your property is fast and easy. Our friends at the Vacation Rental Management Association (VRMA) provide a free search tool to locate property managers and their available properties worldwide. But if you're interested in a relaxing island setting in the gorgeous Brunswick Islands of southeastern North Carolina, then your one-stop shop is Hobbs Realty. Hobbspitality is our specialty and our family-owned business loves helping other families make memories at Holden Beach!
Hope to see you soon!