910-253-1330
"Where farming is a family thing."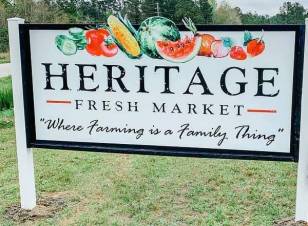 Farming for over 70 years, the Clemmons family now offers a Fresh Market annex with seasonal fruits and vegetables. The farm is conveniently located just a mile off of Highway 17S, with an annex fresh market planned for the corner of Highway 17S and Sellers Road very soon. You'll also find seasonal items such as deer corn and pumpkins in the fall. 
Open: March - December
Address: 529 Makota Road, Supply, NC
Annex Location: Corner of Hwy 17S and Sellers Rd.
Phone: (910) 253-1330
Hobbspitality Discount at Heritage Fresh Market

You'll enjoy a $5 discount with a $25 purchase with your Hobbspitality bracelet.