A Walker's Island Paradise 
Four miles off the coast of Southport and the mainland, at the mouth of the Cape Fear River, is the island of Bald Head. Bald Head Island marks where the coastline swings from a north-south orientation to run east to west. The island got its name from a bare sand dune that pokes out of the surrounding forests—it looked like a bald head from the sea.
Old Baldy Lighthouse
Because Bald Head is the entrance to Wilmington's harbor, and it's also near dangerous offshore shoals, this was the site of one of the first U.S. lighthouses. The original tower, built in 1794, was lost to erosion. Its replacement, built in 1817, still stands. Called Old Baldy, it is the oldest lighthouse in North Carolina and is a visitor attraction, though it no longer serves as a navigational beacon. Also near the lighthouse is a restored keeper's cottage, now a museum. 

Life on Bald Head Island
Bald Head Island, an incorporated village with summer populations that can reach more than 3,000, offers a retreat from modern pressures. Except for security and maintenance vehicles, gasoline-powered engines are not allowed on Bald Head Island. The residents and visitors all drive electric carts, ride bicycles, or walk to get around. Bald Head Island can only be reached by the island's private ferry or personal boat), and it features an upscale vacation resort with beaches and golf courses. The island also has a large nature preserve that sits away from the island's development and includes most the island and surrounding wetlands. Village amenities include a small grocery store, a gift shop, town offices, and two waterfront restaurants. 
Nature and Wildlife on Bald Head Island
Because it's so close to the warm Gulf Stream, Bald Head also enjoys North Carolina's only subtropical climate. Palms and other species that thrive nowhere else in the state are found in abundance on this island.
Bald Head Island has 14 miles of beaches, unspoiled dunes, creeks and forests. The 2,000 acres of land are surrounded by 10,000 acres of salt marshes. The owners have deeded nearby Middle Island and Bluff Island to the state and The Nature Conservancy. The Bald Head Island Conservancy, a non-profit organization, was formed to ensure that the unique natural resources of the island are maintained and preserved. 
Turtle nesting on Bald Head Island accounts for 50 percent of all the turtle eggs laid in North Carolina. The Sea Turtle Program protects and monitors these remarkable creatures. There is an Adopt-a-Nest Program that residents and visitors can participate in that pairs concerned humans with turtles to protect the nest and encourage the hatchlings toward the sea.
Due to the many species of birds found on the island, the Audubon Society is also here frequently and conducts an annual count here as part of its national program.
The Bald Head Island Conservancy provides an excellent view of a freshwater lagoon habitat. There, you'll see great blue herons, white ibis, yellow belly slider turtles, and American alligators. A one-half mile boardwalk and trail provided by the Conservancy takes you through beautiful salt marsh and maritime forest habitats. Green anoles, fiddler crabs, painted buntings, and osprey are a few species that you can see while walking the trail. This is also an excellent opportunity to see the unique plants that grow in this high salinity environment.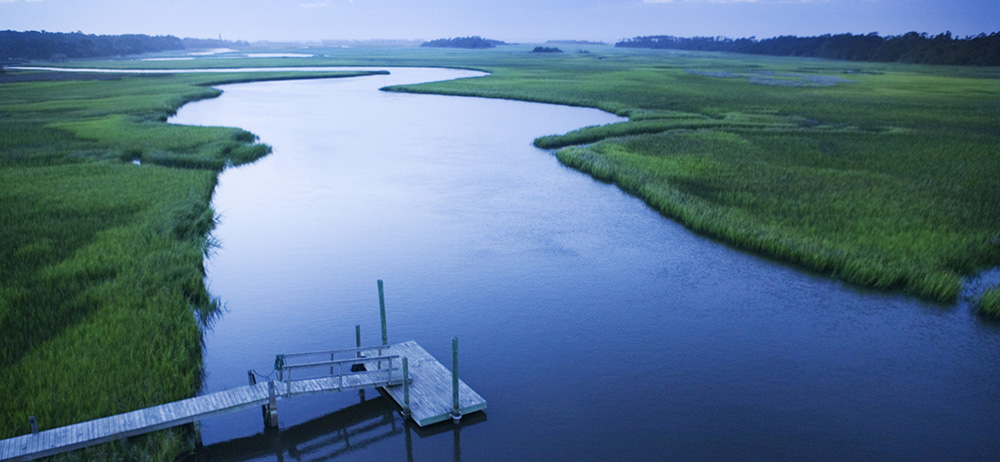 A 173-acre maritime forest site is located in the central portion of Bald Head Island. This component of the North Carolina Coastal Reserve is managed by the Division of Coastal Management, with the Conservancy as its local steward. There is a trail with interpretive signs that runs approximately one mile long, and several loop trails that are much shorter.
Bald Head Woods Coastal Reserve contains extremely old and large trees, which provide a canopy that shelters the undergrowth from salt spray. Don't miss the live oak named "Baldy," registered with the Live Oak Society due to its large size. Baldy is located near the entrance to the trail. Species found at this site include gray squirrels, raccoons, white-tailed deer, eastern mud turtles, black racers, green tree frogs, southern toads, painted buntings, Carolina wrens, cardinals and blue jays.
From 10,000-year-old oyster shells to stranded jellyfish, there are many sea treasures on Bald Head's beaches waiting to be discovered. No matter what season you visit the island, you are bound to see a remarkable variety of island birds. Expect to see birds ranging from painted buntings that sing from the tree-tops in late spring and summer and use the forest understory as nesting habitat, to white ibis that fly in flocks over the island heading to Battery Island to roost or to the salt marshes to feed. Try the Kent Mitchell Nature Trail to see wading birds of the salt marsh, or walk through Bald Head Woods to spy maritime forest species.
Investigate the tidelands when you put your boat in at the Village Creek Access and paddle through Bald Head Creek. Or try your hand at crabbing at Village Creek Access. And the fishing is good at the entrance to the marina, on the west beach, or at Cape Fear Point. Also, due to the low amount of "light pollution," Bald Head is a great place to see the stars.
Visitors can get to the island by private ferry service from Indigo Plantation in Southport. Remember, the ferry between Southport and Bald Head Island is strictly for passengers, so you'll have to leave your car behind.
Directions to Bald Head Island
To get to Southport (and the ferry to Bald Head Island), take U.S. 17-74-76 west across Cape Fear Memorial Bridge. At N.C. 133 exit, take a left (south) toward Southport (133 joins N.C. 87). At Southport, 87 intersects N.C. 211. Make a left (east) on 211 to downtown Southport. 
You may also take U.S. 421 south to Fort Fisher, then take the ferry to Southport. Take N.C. 211 into downtown Southport. 
Leaving Wilmington, take the Cape Fear Memorial Bridge and make a sharp left onto N.C. Highway 133 just off U.S. Highways 17, 74 and 76. If you miss it, you can also take N.C. Highway 87.
There are four area airports. Major airline service is offered through two—Wilmington International Airport and Myrtle Beach International Airport. Brunswick County is midway between both airports and about 45 minutes away from each. There are also two small airports in Ocean Isle Beach and Oak Island.